Almost everyone has their way of making mashed potatoes. Some choose to go with peeled or unpeeled potatoes. Some choose to add milk, cream, butter, cheese…and the list could go on and on.  Well today I'm going to give you my way of making mashed potatoes. Before discovering this recipe we use to just add milk and butter to our potatoes. That is basically the most common way to make them, but I think this tastes much better. The secret to these great potatoes is adding fresh garlic to the potatoes while boiling them. Then during the mashing process we are adding a few ingredients such as milk, butter, parmesan cheese, salt, and pepper. If you're in need of a quick and tasty mashed potatoes recipe for a side dish tonight, you've come across the perfect recipe. Enjoy.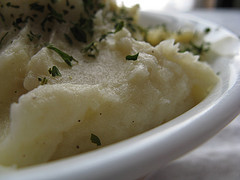 Ingredients:
7 cups peeled potatoes (cubed)
6 cloves garlic (minced if you want)
¼ cup parmesan cheese
½ cup milk
2 tablespoons butter
½ teaspoon salt
1/8 teaspoon pepper
Cooking Instructions: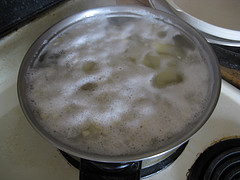 Step 1: Peel potatoes and then cut them into cubes. Peel garlic (mince if you wish) and place potatoes and garlic in a large sauce pan. Add water, cover and bring to a boil. Reduce heat and simmer for 20 minutes. Drain.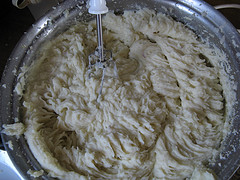 Step 2: Place the drained potatoes and garlic in a mixing bowl. Add milk, butter, parmesan cheese, salt and pepper, and beat with a mixer until smooth.
Tags: cooking, recipes, food and drink, recipe