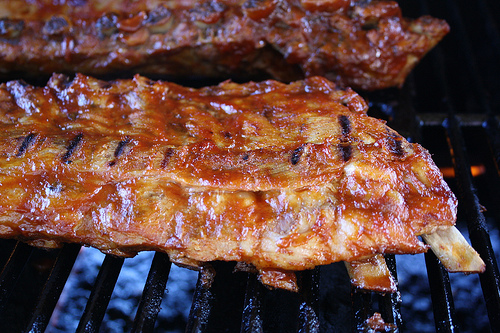 Just in time for the 4th of July, barbecued baby back ribs. If you enjoy grilling pork, baby back ribs is a must, and here I for you a fantastic method and recipe to make those perfect baby back ribs. The cooking of the ribs requires to different steps, baking in the oven and then grilling. The ribs are first wrapped in aluminum foil and then baked in the oven. This allows the ribs to cook in their own juices and gives them great texture. The next step is grilling; this gives the ribs that nice grill flavor and really works well with the BBQ sauce. The BBQ sauce for this recipe is great; the liquid smoke gives it a very nice Smokey flavor. This is perfect for the 4th of July or any summer cook outs. Enjoy.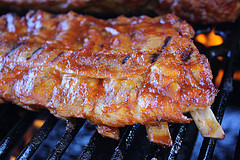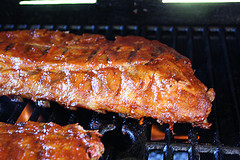 Ingredients:
4 racks of baby back ribs
1 ½ cups water
1 cup white vinegar
½ cup tomato paste
1 tablespoon yellow mustard
2/3 cup dark brown sugar (packed)
1 teaspoon hickory flavoring liquid smoke
1 ½ teaspoons salt
½ teaspoon onion powder
¼ teaspoon garlic powder
¼ teaspoon paprika
Cooking Instructions: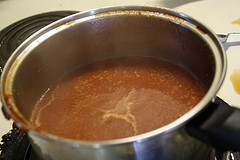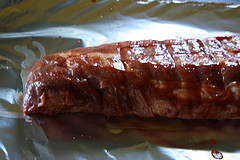 Step 1: To make the BBQ sauce- In a sauce pan combine water, vinegar, tomato paste, mustard, brown sugar, liquid smoke, salt, onion powder, garlic powder, and paprika. Mix well and bring to a boil. Reduce heat and simmer, stirring often for about 45 to 60 minutes until the sauce is thick.
Step 2: Pre-heat the oven to 300 degrees. Brush BBQ sauce over the surface of each rack of ribs. Wrap each rack tightly with aluminum foil and arrange on a baking sheet with the seam of the foil facing up. Bake for 2 – 2 ½ hours or until the meat on the ribs has pulled back from the cut ends of the bones about ½ inch.
Step 3: Pre-heat your grill to medium heat. Remove the ribs from the foil and grill them on the grill for 4 to 8 minutes on each side or until the surface of the ribs is begging to char. Brush the BBQ sauce over both sides of the ribs a few minutes before you remove them from the grill.
(Makes 4 Servings)
If you enjoyed this article Subscribe to my RSS Feed.