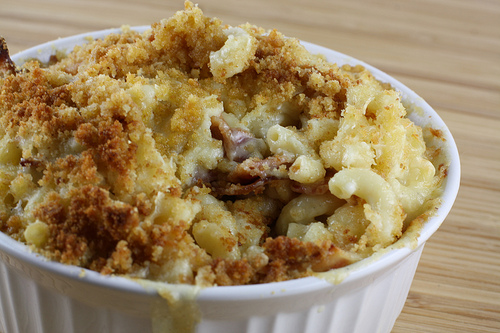 Bacon and Mac and cheese are nearly the perfect combination. To the point where I feel all Mac and cheese should have bacon in it. Good macaroni and cheese seems like it can be rather expensive and consist of many different ingredients. This recipe is fairly simple and it gets the job done. What I think really makes this recipe stand out is the flavor of the bacon gets baked into the entire dish. The bacon adds great flavor to this Mac and cheese. If you want to use regular sharp cheddar cheese instead of white cheddar, you can. This is perfect if you're looking for a simple Mac and cheese recipe. Enjoy.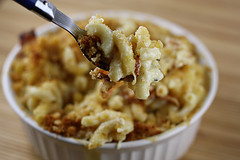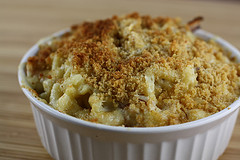 Ingredients:
1/2lb sliced bacon (diced)
1 (8 ounce) package elbow macaroni
2 cups milk
¼ cup butter
2 tablespoons flour
1 teaspoon onion salt
ground black pepper (to taste)
2 (10 ounce) blocks sharp white cheddar cheese (shredded)
1 cup breadcrumbs
¼ cup butter (melted)
Cooking Instructions: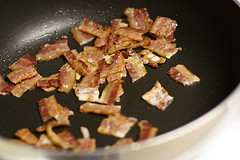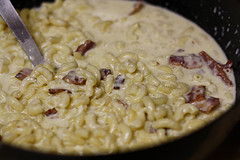 Step 1: Pre-heat the oven to 400 degrees. Grease the bottom of a medium casserole dish. In a large skillet over medium-high heat fry bacon (in batches if necessary) until crisp.
Step 2: Cook noodles according to package directions. While noodles are cooking in a saucepan over medium heat melt butter. Blend in the flour onion salt, and pepper until smooth. Slowly whisk in the milk, a little at a time getting rid of any lumps. Add shredded cheese until the sauce has become thick.
Step 3: Drain noodles, and in a bowl stir them into the cheese sauce. Mix in bacon. Pour the noodle mixture into the casserole dish. Combine bread crumbs and melted butter in a small bowl. Sprinkle the bread crumbs mixture over the noodles in the casserole dish.
Step 4: Place into the oven and bake for 20 to 25 minutes.
(Makes 6 Servings)
If you enjoyed this article Subscribe to my RSS Feed.