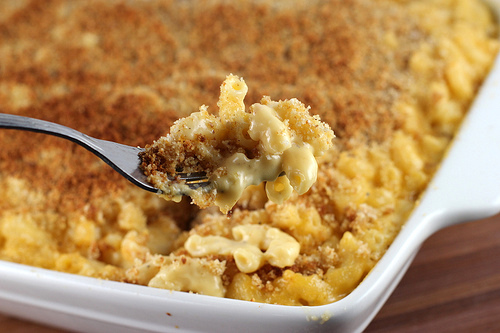 After doing some searching I have finally found what I consider to be the best baked macaroni and cheese recipe out there. I have tried others that were good but were also extremely expensive. This recipe is very simple and only uses 1 type of cheese, which is cheddar. The process for making this is very easy. The noodles are first boiled in a pot, and while the noodles are boiling a cheese sauce is prepared in the pan. The cheese sauce is basically a combination of cheddar cheese, milk, and cream. The noodles and sauce are mixed, placed into a baking dish and topped with buttered breadcrumbs. If you are searching for an excellent mac and cheese recipe, give this one a try!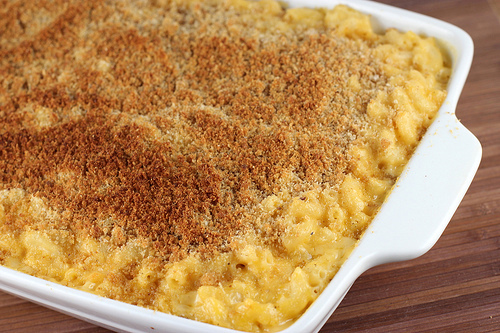 Ingredients:
1 (8 ounce) package elbow macaroni
4 tablespoons butter
4 tablespoons flour
1 cup milk
1 cup cream
½ teaspoon salt
ground black pepper (to taste)
2 cups shredded cheddar cheese
½ cup breadcrumbs (buttered)
Cooking Instructions: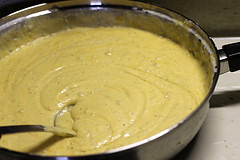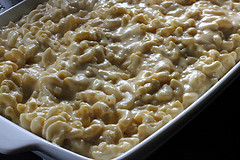 Step 1: Pre-heat the oven to 400 degrees. Cook macaroni noodles according to package directions and drain. Set aside.
Step 2: Melt butter in a large saucepan over medium heat. Add flour, salt, and pepper. Use a whisk to stir until well blended. Pour in the milk and cream stirring constantly. Bring to a boil and boil for 2 minutes while stirring. Reduce heat and simmer for 10 minutes while stirring. Add cheddar, a little at a time and stir in until cheese melts. Remove from heat.
Step 3: Add macaroni noodles to the saucepan and toss to coat with the cheese sauce. Transfer macaroni to a buttered baking dish. Sprinkle buttered breadcrumbs over the top of the macaroni. Place into the oven and bake for 20 minutes or until the top is golden brown.
(Makes 4 Servings)
If you enjoyed this article Subscribe to my RSS Feed.