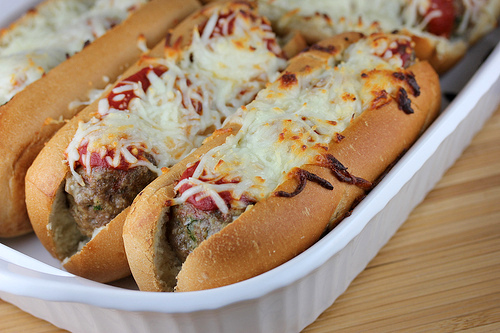 I have always enjoyed eating meatball subs at my favorite sandwiches places so I decided to try and make my own. These subs are loaded with homemade meatballs, pasta sauce, and shredded cheese. The process to making these sandwiches does require a little bit of work. Most of the work comes from preparing the meatballs. The meatballs are baked in the oven and then placed into the sandwich rolls, tossed with pasta sauce and cheese and then baked in the oven. If you have a favorite meatball recipe you could use that one instead of the recipe here. Another good idea for these subs is to add sliced pepperoni to them. These meatball subs are great for parties and for dinner. Enjoy.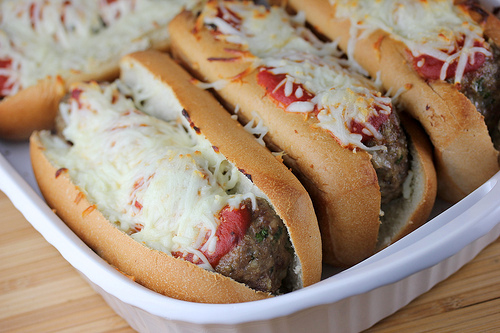 Ingredients:
Meatballs-
1lb ground beef
1 egg
¼ cup milk
½ cup breadcrumbs
½ teaspoon salt
1 teaspoon oregano
1 tablespoon minced fresh parsley
½ teaspoon garlic powder
½ teaspoon ground black pepper
¼ cup grated parmesan cheese
Other-
6 small sub rolls
8 ounces shredded mozzarella cheese
1 cup pasta sauce
Cooking Instructions: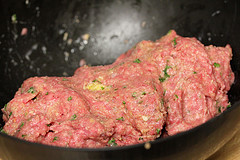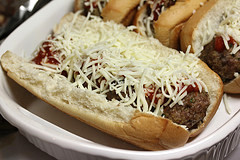 Step 1: To prepare the meatballs- in large bowl mix together ground beef, egg, milk, breadcrumb's, salt, oregano, parsley, garlic powder, ground black pepper, and parmesan cheese. Roll meatballs to about the size of a golf ball. Place onto a lightly greased baking sheet. Place into the oven and bake for 25-30 minutes at 350 degrees until the meatballs are fully cooked (the internal temperature has reached 160 degrees).
Step 2: Toss the cooked meatballs with the pasta sauce. Place into the subs rolls (about 4-5 in each sub) top with more pasta sauce and shredded mozzarella cheese.
Step 3: Place into the oven and bake until the cheese has melted, hot and bubbly and the sandwiches are heated through.
(Makes 6 Servings)
If you enjoyed this article Subscribe to my RSS Feed.