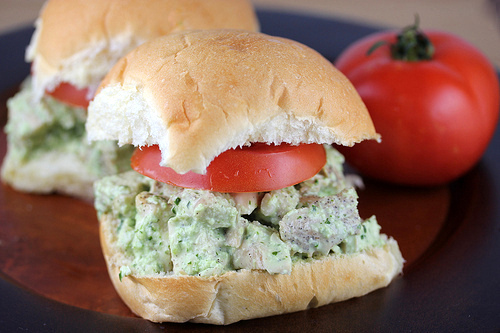 This is the perfect dish if you are looking for a slightly different take on chicken salad. What I found interesting about this recipe is that the main ingredient is fresh basil, which gives this salad a very unique flavor. Preparing this dish is very easy—mayonnaise, garlic, basil, and celery are pureed in a blender and then mixed with parmesan cheese and chopped chicken. The cooking method for the chicken in this recipe is to bake it in the oven, but you could pan-fry or grill the chicken as well. This recipe is perfect for summer and the warmer weather; it is also great for busy nights when you don't have much time to prepare a meal. This chicken salad goes on sandwiches with sliced tomato and cheese. Enjoy.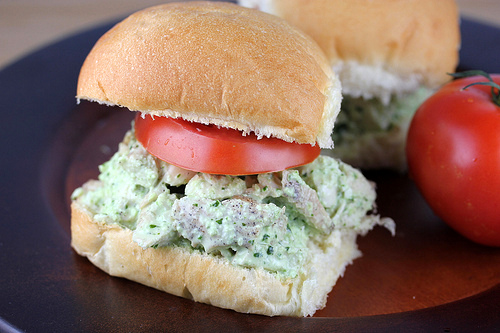 Ingredients:
2 whole boneless, skinless chicken breasts
salt and pepper (to taste)
1 cup mayonnaise
1 cup fresh basil (chopped)
2 garlic cloves (crushed)
3 stalks celery (chopped)
2/3 cup grated parmesan cheese
Cooking Instructions: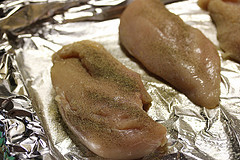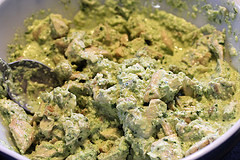 Step 1: Preheat the oven to 375 degrees. Season the chicken breasts on both sides with salt and pepper. Place chicken breasts onto a lightly greased baking sheet. Place into the oven and bake at 375 degrees for 35 minutes (or until the internal temperature has reached 165 degrees). Remove from the oven and allow the chicken to cool. Once the chicken has cooled chop it into chunks. Set aside.
Step 2: In a food processor combine mayonnaise, basil, garlic, and celery. Puree until smooth.
Step 3: In a large serving bowl combine the chunked chicken, pureed mixture, and Parmesan cheese. Toss to coat. Refrigerate and serve.
(Makes 4 Servings)
If you enjoyed this article Subscribe to my RSS Feed.