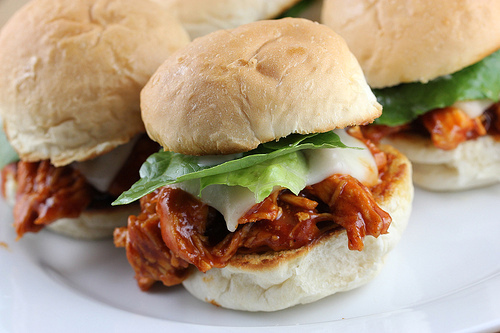 If you are looking for an excellent snack for game day you might want to give these BBQ chicken sliders a try. I have posted a few slider recipes lately but these have to be my favorite. The chicken is first grilled and shredded and then mixed with your favorite BBQ sauce. If you would like a delicious BBQ sauce, you can try my BBQ Sauce Recipe. The grilled chicken is placed onto slider buns and topped with mozzarella cheese slices, lettuce, and ranch dressing. If you want to save time you could use leftover cooked chicken or buy a cooked rotisserie chicken from the store and shred it.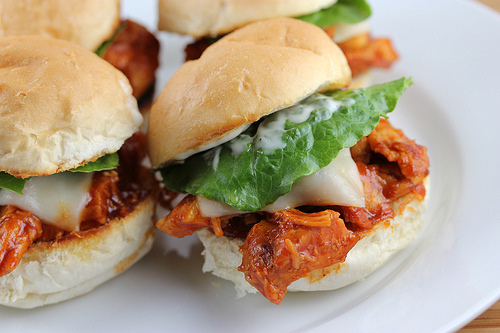 Ingredients:
2lbs boneless skinless chicken breasts
½ cup BBQ sauce (or more)
12 slider buns
butter
4 slices mozzarella cheese (cut into 4 squares)
ranch dressing
lettuce
Cooking Instructions: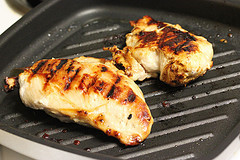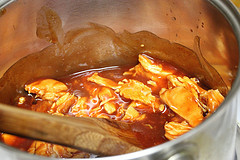 Step 1: Lightly grease grill grates and preheat the grill to medium-high heat (you can also use an indoor grill pan). Place chicken onto the grill and grill chicken, turning once, until fully cooked (the internal temperature has reached 165 degrees F). Remove chicken from the grill and wait 10 minutes to allow the chicken to cool. Shred the chicken into pieces with 2 forks. Mix the shredded chicken with the BBQ sauce and set aside.
Step 2: Split the sliders buns in half, and butter each half. Place butter side down onto the grill or in a frying pan and cook until browned.
Step 3: Pile shredded BBQ chicken onto the bottom half of each slider bun. Top with a slice of mozzarella cheese, and lettuce. Spread ranch dressing onto the bottom of the top half of the slider bun. Place on top of the lettuce.
(Makes 6 Servings)
If you enjoyed this article Subscribe to my RSS Feed.