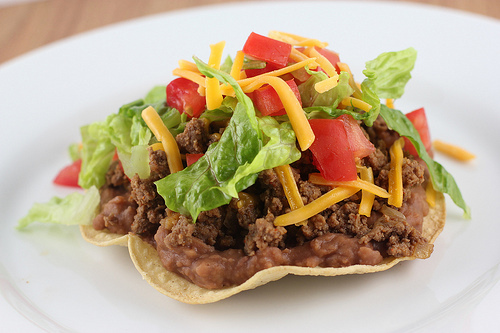 If you are looking to try something different from tacos, beef tostadas is the way to go. I had thought about using shredded beef instead of ground but using ground beef seemed so much easier. The best part about this recipe is the homemade taco seasoning mixture. The addition of cornstarch really gives it a great texture. We are also making homemade tostada shells from torn tortillas. These beef tostadas can be served with black olives, salsa, guacamole, and sour cream. Enjoy.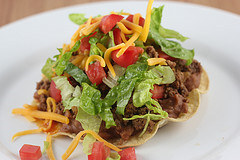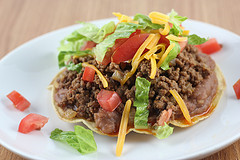 Beef Tostadas
Prep time: 15 minutes Cook time: 30 minutes
Ingredients:
1 1/2lbs ground burger
4 teaspoons dried minced onion
3 teaspoons chili powder
1 teaspoon cornstarch
1 teaspoon garlic powder
1 teaspoon ground cumin
½ teaspoon oregano
1/8 teaspoon cayenne pepper
8 corn tortillas
cooking spray
1 (16 ounce) refried beans
shredded cheddar cheese
romaine lettuce (sliced)
tomatoes (diced)
Cooking Instructions: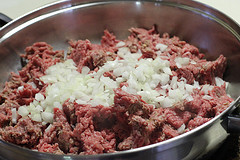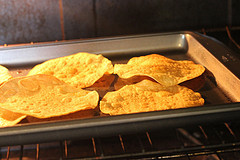 Step 1: In a small bowl combine minced onion, chili powder, cornstarch, garlic powder, cumin, oregano, and pepper cayenne. Set aside. In a large skillet over medium high heat brown ground beef. Drain off an excess fat and stir in taco seasoning mixture and ½ cup of water. Simmer for 10 minutes or the liquid is absorbed and the mixture is thick. Set aside. In a small saucepan heat refried beans over low heat.
Step 2: To make tostada shells- Pre-heat the oven to 375 degrees. Spray tortillas on both sides with cooking spray and place onto a baking sheet. Place into the oven and bake turning once for 10 minutes or until crispy and light brown.
Step 3: To assemble tostadas- spread a thin layer of refried beans on each tostada shell. Top with taco meat, cheese, lettuce and tomato.
Yield: (4 Servings)
If you enjoyed this article Subscribe to my RSS Feed.