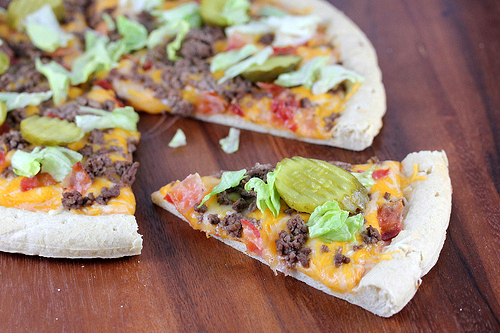 If you enjoy the Big Mac from McDonalds this pizza is perfect for you. This recipe combines several of the ingredients of a Big Mac into a delicious and easy to make pizza. The sauce is Thousand Island dressing, which does have a similar taste to the sauce used on the Big Mac. The pizza is then topped with ingredients such as cooked ground beef, Colby-jack cheese, pickles and lettuce. If you want to make it more like a Big Mac you could add some minced onto the pizza as well. Another great option is to add diced tomatoes on top of the pizza after it has finished baking in the oven. This recipe is like a cheeseburger pizza, only better! Enjoy.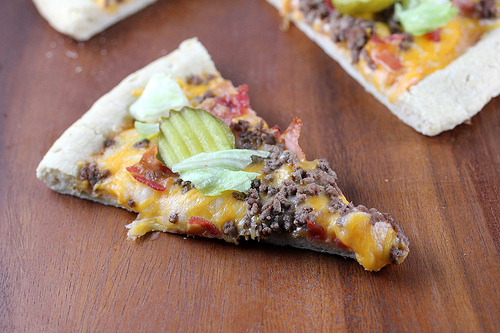 Ingredients:
1 (12 inch) prepared pizza crust
1/3 cup thousand island dressing, with bacon (or more)
1/2lb lean ground beef
3 cups shredded Colby-jack cheese
5 slices of bacon (cooked until crispy, and crumbled)
½ cup dill pickle slices
3 cups shredded lettuce
Cooking Instructions: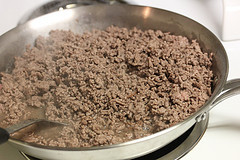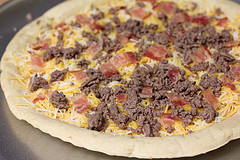 Step 1: Preheat the oven to 400 degrees. In a large skillet cook ground beef over medium high heat. While cooking the ground beef use a spatula to break apart the beef into chunks. Cook until the ground beef is fully cooked. Drain off any excess fat.
Step 2: Spread the Thousand Island dressing over the top of the pizza crust. Evenly spread the shredded cheese over the top of the dressing. Evenly spread the ground beef and crispy bacon over the top of the cheese.
Step 3: Place into the oven and bake for 8-10 minutes until the cheese has melted. Remove from the oven and top with lettuce and pickles. If you want you can also top with some diced tomato and minced onion. Cut into slices and serve right away.
(Makes 4 Servings)
If you enjoyed this article Subscribe to my RSS Feed.