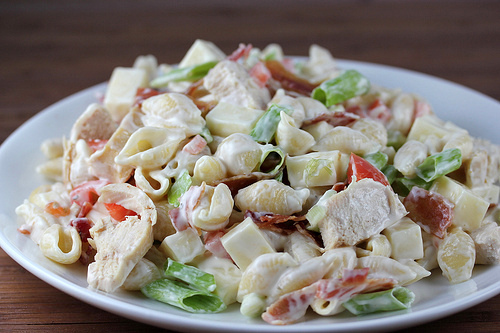 This chicken bacon ranch pasta salad is sure to be the highlight of any summer cook-out. I made this last week and it was gone within minutes, it was literally that good. This recipe consists of cooked chicken, crispy bacon, cheese, pasta, and numerous vegetables tossed with a ranch/mayonnaise dressing. This salad is an excellent way to use up left-over cooked chicken; you can either shred it or slice it into chunks. If you need to cook the chicken breasts, you can do so on the stove-top, the oven, or the grill. This delicious salad makes a perfect dish for summer. Enjoy.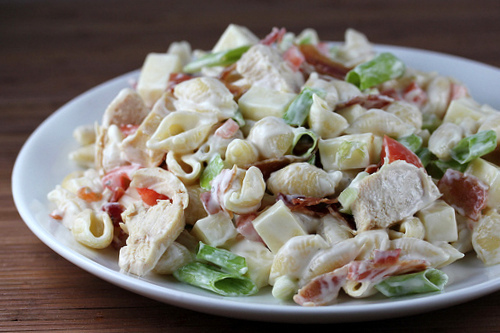 Ingredients:
1lb medium pasta shells
2 boneless skinless chicken breasts (cooked and shredded or diced)
½ cup tomatoes (seeded and diced)
½ cup green onions (sliced)
1 (8 ounce) block mozzarella cheese (diced)
1lb bacon (cooked until crispy and crumbled)
1 cup mayonnaise
1 cup ranch salad dressing
salt and pepper (to taste)
Cooking Instructions: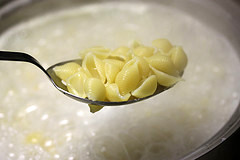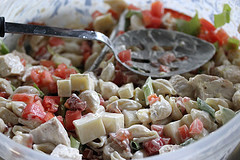 Step 1: Bring a large pot of water to a boil. Add pasta and cook according to package directions. Drain and rinse off with cold water until the pasta has cooled.
Step 2: In a large mixing bowl stir together mayonnaise and ranch dressing. Add tomatoes, green onion, chicken, and bacon. Stir to combine. Add the pasta and toss to coat. Stir in the cheese, Season with salt and pepper.
(Makes 6 Servings)
If you enjoyed this article Subscribe to my RSS Feed.