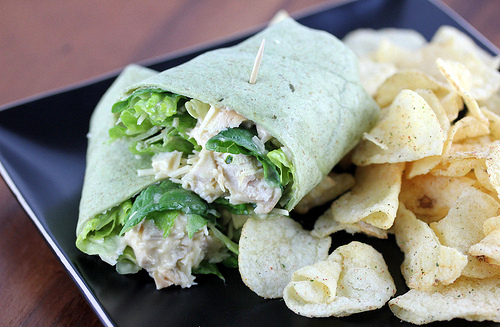 When you add the ingredients of a chicken Caesar salad into a wrap, you have the perfect lunch or dinner. Chicken Caesar salad is probably my favorite lettuce salad and I have always wanted to try it in a wrap. These wraps consist of diced chicken, romaine lettuce, parmesan cheese, Caesar dressing, and spinach tortillas. This recipe is great because the Caesar dressing is homemade and these wraps are so easy to prepare. The use of the meat from a rotisserie chicken saves a lot of time and effort and makes this salad a good option for a quick meal. If you cannot find the spinach tortillas, multigrain ones will work as well. Enjoy.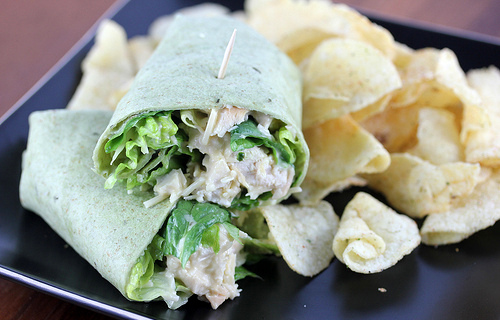 Ingredients:
Caesar dressing-
¼ cup mayonnaise
¼ cup grated parmesan cheese
2 tablespoons fresh lemon juice
1 tablespoon Worcestershire sauce
1 tablespoon Dijon mustard
1 garlic clove (minced)
¼ cup olive oil
Other-
1 (2 1/2 pound) rotisserie chicken (skin and bones discarded, meat removed and shredded into bite-sized pieces)
1 romaine lettuce heat (turn into bite-sized pieces)
4 (10 inch) spinach wraps
Cooking Instructions:
Step 1: In a large bowl whisk together mayonnaise, Parmesan cheese, Worcestershire sauce, lemon juice, Dijon mustard and garlic. Whisk in the olive oil, slowly and little a time until well incorporated.
Step 2: Add the chicken and lettuce to the bowl and toss with the dressing. Divide the salad mixture evenly among the tortillas Roll up and secure with a tooth pick.
(Makes 4 Servings)
If you enjoyed this article Subscribe to my RSS Feed.