Chicken Gyros Recipe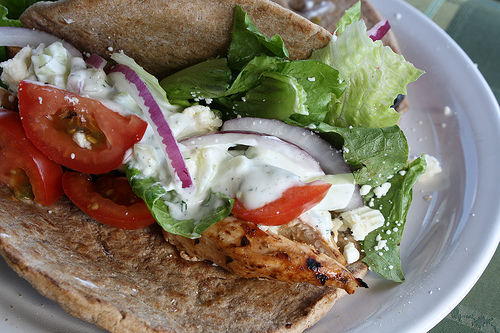 If you enjoy Greek cuisine as much as I do, you are probably a fan of the Gyro. They are served at many popular restaurants through the United States and the rest of the world. Incase you are wondering, Gyros are a Greek dish consisting of meat, tomato, onion, and sauce on pita bread. The sauce, called tzatziki sauce uses ingredients such as cucumber, yogurt, sour cream, lemon juice and salt. If you are looking over the ingredient list you might notice is a rather lengthy. Some of the items such as olives, lettuce or tomato could be left out if you choose. I can't say for sure but I believe this recipe is fairly authentic. This recipe uses chicken but lamb or beef could also be used. If you are looking to add some Greek cuisine to your menu, give this one a try. Enjoy.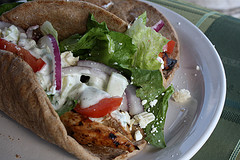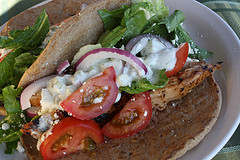 Ingredients:
4 boneless skinless chicken breast halves
Marinade-
¾ cup balsamic vinaigrette salad dressing
3 tablespoons lemon juice
1 tablespoon dried oregano
½ teaspoon ground black pepper
Tzatziki Sauce-
½ cup cucumber (shredded and seeded)
1 teaspoon kosher salt
1 cup plain yogurt
¼ cup sour cream
1 tablespoon lemon juice
½ tablespoons rice vinegar
1 teaspoon olive oil
1 garlic clove (minced)
1 tablespoon fresh dill (chopped)
½ teaspoon greek seasoning
salt and pepper (to taste)
4 large pita bread rounds
1 heart of romaine lettuce (cut into ¼" slices)
1 red onion (thinly sliced)
1 tomato (halved and sliced)
½ cup kalamata olives
½ cup pepperoncini
1 cup crumbled feta cheese
Cooking Instructions: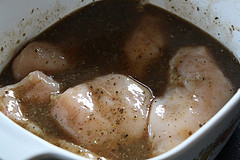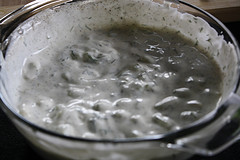 Step 1: In a small bowl combine balsamic vinaigrette, juice from ½ of a lemon, oregano, and ½ teaspoon black pepper. Place chicken a large re-sealable plastic bag. Pour marinade over the chicken, seal and refrigerate for at least 1 hour.
Step 2: To make sauce- Toss the shredded cucumber with 1 teaspoon of slat. Allow it to sit for at least 5 minutes. In a medium bowl mix together yogurt, sour cream, 1 tablespoon lemon juice, rice vinegar, and olive oil. Season with garlic, fresh dill, and Greek seasoning. Squeeze the cucumber to remove any excess water. Stir into the sauce. Season to taste with kosher salt and pepper. Cover and refrigerate until ready for use.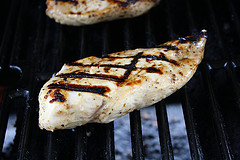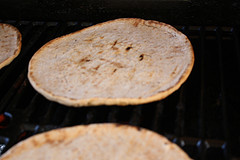 Step 3: grease and pre-heat and outdoor grill to high eat. Remove chicken from the marinade and place onto the grill. Discard the marinade. Cook chicken until the juices run clear and the chicken has reached an internal temperature of 165 degrees. Remove the chicken from the grill and slice into thin strips.
Step 4: Place pita rounds on the grill and cook for 2 minutes, until warm. Turning frequently to keep them from burning. Top each pita with chicken, lettuce, tomato, onion, olives, and pepperoncini. Serve with tzatziki sauce and feta cheese.
(Makes 4 Servings)