Chicken Scallopini Recipe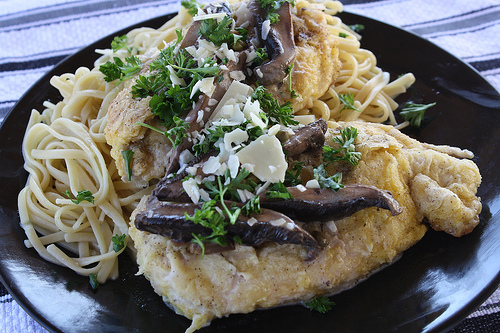 I had tried a recipe for chicken scallopini (Scaloppine) before and did not really care for it. I decided to give it another shot with a different recipe and it turned out fantastic. This dish is served at many restaurants and I would say is fairly popular. If you are not familiar with it, I believe it is an Italian based dish. For this recipe, the sauce is where it's at. The sauce basically consists of butter, lemon juice, white wine, and heavy cream. All of these ingredients can be adjusted to your taste. Another great option if you want to add more flavor is to add crumbled bacon of pancetta on top. This is a dish that is sure to impress almost anyone with your cooking skills. Enjoy.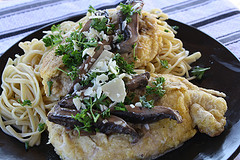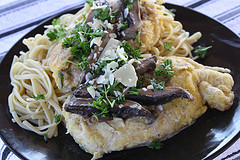 Ingredients:
1lb linguini (cooked and drained)
6 boneless skinless chicken breasts (pounded to an even thickness)
1 1/2 cups flour
Salt and pepper (for seasoning)
2 tablespoons olive oil
4 tablespoons butter
12 ounces of fresh mushrooms (sliced)
Parmesan Cheese
Sauce-
¼ cup butter
The juice of 1 lemon
½ cup heavy cream
1 cup dry white wine
1 tablespoons capers
3 tablespoons fresh parsley (chopped)
Cooking Instructions: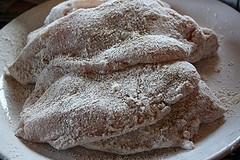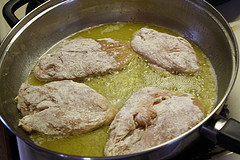 Step 1: Season chicken breasts on both sides with salt and pepper. Dredge in flour on both sides. In a large skillet heat oil and 4 tablespoons of butter over medium heat. Fry chicken breasts on both sides until fully cooked golden brown. Transfer to a plate and keep warm in the oven.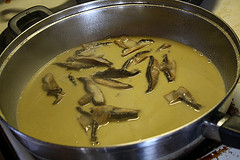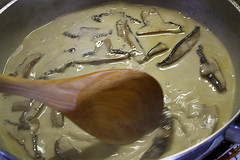 Step 2: Melt butter in the same pan, add sliced mushrooms and stir fry for a few seconds. Pour in wine, lemon juice, and stir to combine. Bring to a boil and cook for about 1 minute until the sauce has reduced. Pour and stir in cream, add capers, and add salt and pepper to taste. Add parsley and remove from heat.
Step 3: Pour sauce over chicken and linguini and top with parmesan cheese.
(Makes 6 Servings)