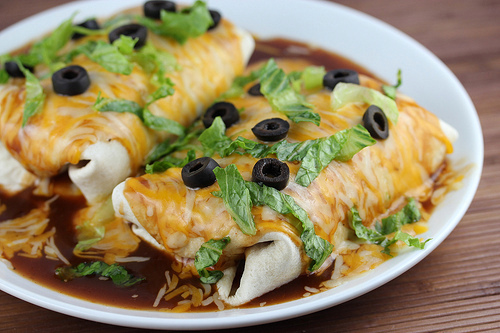 Making wet burritos using beef is always delicious, but using shredded chicken is even better. If you have never had a wet burrito before, it is basically a burrito that is covered in sauce and cheese. I would say that it is very similar to an enchilada in a lot of ways. The chicken is first cooked and shredded, it is then mixed into a tomato sauce and green chili mixture and simmered for a few minutes. You can cook the chicken fresh, or use leftover cooked chicken for this recipe.  The chicken mixture is then wrapped in a tortilla with refried beans, topped with a sauce and cheese, and then placed into the oven. If you want to save time, you could just microwave the rolled up burritos until the cheese has melted. The sauce is easily one of my favorite parts about this recipe, the combination of enchilada sauce and home-style beef gravy is amazing. This makes a great dinner for any night of the week. Enjoy.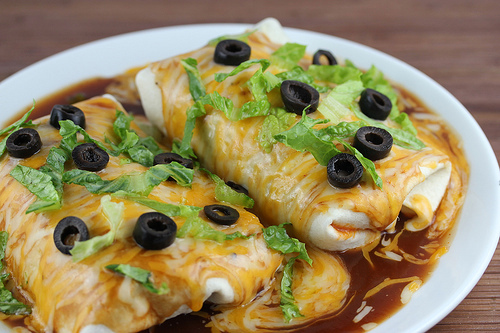 Ingredients:
Filling Mixture-
1 cup onions (chopped)
1 tablespoon oil
1 garlic clove (minced)
2 cups cooked chicken (shredded)
1 (8 ounce) can tomato sauce
1 (4 ounce) can chopped green chilies (drained)
1 cup chicken broth
Additional Ingredients-
1 (16 ounce) can refried beans
4 large flour tortillas
1 (10 ounce) can enchilada sauce
1 (18 ounce) jar home-style beef gravy
2 cups shredded Colby-jack cheese
Toppings-
sour cream
shredded lettuce
sliced black olives
salsa
chopped tomatoes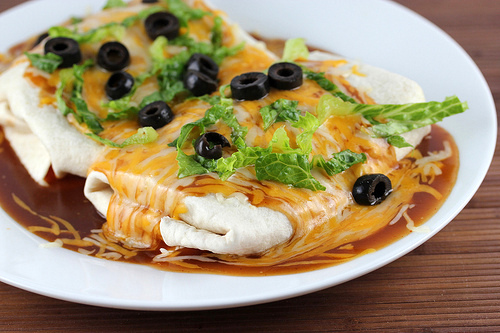 Cooking Instructions: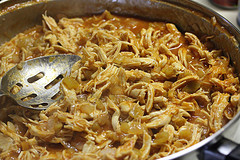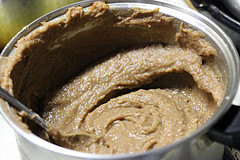 Step 1: Add oil to a large skillet over medium-high heat. Add onion and garlic and cook until tender. Stir in shredded chicken, tomato sauce, green chilies, and chicken broth. Cook until heated through. In a medium sauce pan warm the refried beans. In another medium sauce pan, combine enchilada sauce and home-style beef gravy. Heat until almost boiling.
Step 2: Preheat the oven to 375 degrees. To assemble the burritos- on each tortilla layer ¼ cup of refried beans and ¼ of the chicken mixture. Fold the sides of the burrito in, then roll from the other sides until you have a package formed. Place seam side down in a 13×9 inch baking dish.
Step 3: Pour about ¾ of the sauce mixture over the burritos in the baking dish and top with shredded Colby-jack cheese. Place into the oven and bake at 375 degrees for 15-20 minutes until the cheese has melted and the burritos are heated through.
Step 4: Spoon leftover sauce over the top of the burritos while serving. Serve with any of the toppings of your choice.
(Makes 4 Servings)
If you enjoyed this article Subscribe to my RSS Feed.