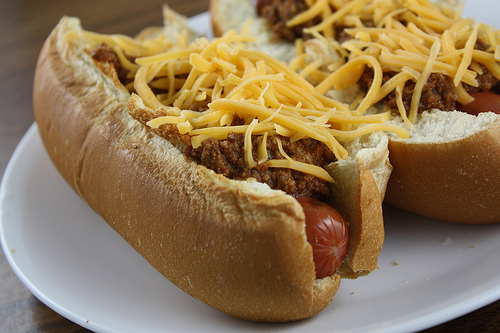 Chili cheese dogs are one of the best quick and easy meals you can make. They are perfect for parties or just for a simple dinner. This recipe includes a delicious chili sauce that goes great on these hot dogs. It will also go perfect on Chili Cheese Fries. You can make the sauce ahead of time because it freezes well and can be used at any time. The sauce also makes a lot so I would either cut it down a little or freeze the leftovers for future use. What really makes the sauce stand out is the cinnamon. I think the cinnamon really adds a great flavor to this chili sauce. Forget using canned chili for your chili cheese dogs when you have this recipe. Enjoy.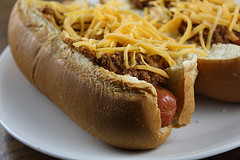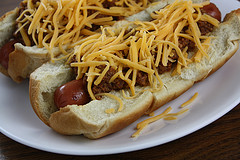 Ingredients:
8 hot dogs
8 hot dog buns
1 (8 ounce) package shredded cheddar cheese
Chili sauce-
1lb hamburger
4 cups water
2 (6 ounce) cans chicken stock
1 (4 ounce) can tomato paste
1 tablespoon dried onions
1 tablespoon chili powder
1 teaspoon kosher salt
1 teaspoon garlic powder
1 teaspoon cinnamon
1 teaspoon dried parsley
½ teaspoon cayenne pepper
Cooking Instructions: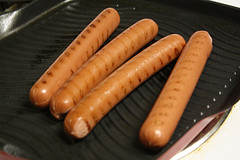 Step 1: In a large pot add water, chicken stock, and tomato paste. Place the raw hamburger in the liquid and break it down so there are no chunks. Add dried onion, chili powder, salt, garlic powder, cinnamon, parsley, and cayenne pepper. Mix well. Bring to a boil, reduce heat and simmer uncovered for 2 hours or until the mixture becomes thick. Stir often. The mixture can be placed on hot dogs right away or cooled, placed into a container and frozen for future use.
Step 2: Cook hot dogs according to your method of choice. Boiling, grilling, pan frying, ect.
Step 3: Place hot dogs on each bun, top with chili sauce and cheddar cheese.
(Makes 8 Servings)
If you enjoyed this article Subscribe to my RSS Feed.