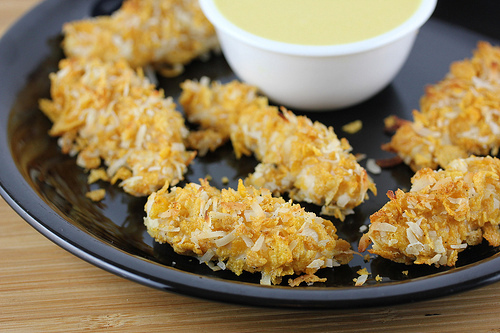 The flavor of flaked coconut goes great on these delicious chicken tenders. What is amazing about this recipe is that these chicken tenders are baked and not fried. These coconut chicken tenders make for a great appetizer or can be served as part of a dinner. They are first dipped in an egg and milk mixture and then rolled in a cornflake and flaked coconut mixture. The crushed corn flakes make these chicken tenders nice and crunchy right out of the oven. If you are looking for a good dip to go with the chicken tenders, honey mustard might be a good choice. Enjoy. Adapted from Budget Gourmet Mom.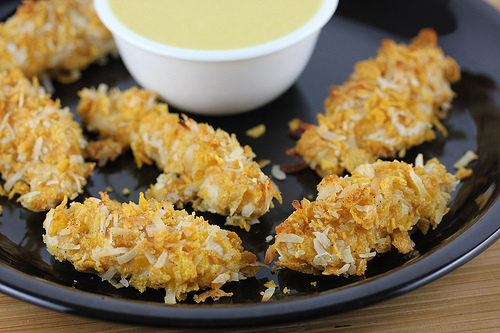 Ingredients:
1 boneless skinless chicken breast (cut into 2 inch bites)
2 cups crushed cornflakes
½ cup flaked coconut
½ teaspoon ground ginger
½ teaspoon salt
¼ teaspoon black pepper
1 egg
1 tablespoon milk
Cooking Instructions: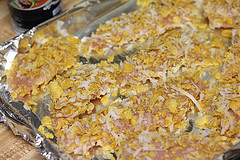 Step 1: Preheat the oven to 375 degrees. Spray a baking sheet with cooking spray. In a shallow bowl or pie plate mix crushed cornflakes, coconut, ginger, salt, and pepper. In another shallow bowl or pie plate beat together the egg and milk.
Step 2: Dip each piece of chicken first into the egg mixture and then roll in the cornflake mixture until evenly coated. Make sure you press down when you are rolling the chicken in the cornflake mixture to ensure that it sticks.
Step 3: Place the coated chicken strips onto the baking sheet. Place into the oven and bake at 375 degrees for 12-14 minutes or until the chicken is fully cooked (the internal temperature has reached 165 degrees).
(Makes 2 Servings)
If you enjoyed this article Subscribe to my RSS Feed.