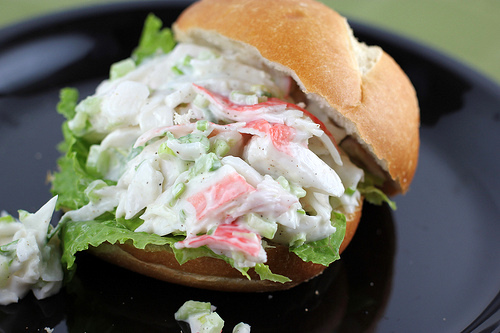 Crab salad sandwiches are a simple yet delicious way to prepare a nice lunch or dinner. If you are short on time and want to put something together quickly, this recipe is perfect. Yes, it does use imitation crab meat but if you prefer, you can use real crab. These sandwiches are a simple combination of imitation crab, mayonnaise, lemon juice, celery, and green onion. You can add additional seasonings such as season salt, and maybe top them with some cheese if you choose. Enjoy.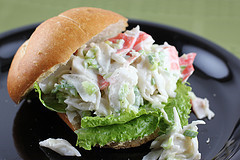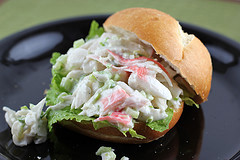 Ingredients:
1 (8 ounce) package imitation crab
½ cup mayonnaise
2 teaspoons lemon juice
2 stalks celery (finely chopped)
3 tablespoons green onion (finely chopped)
salt and pepper (to taste)
4 large lettuce leaves
4 hamburger buns
Cooking Instructions: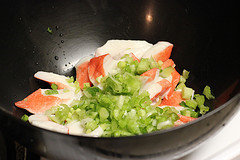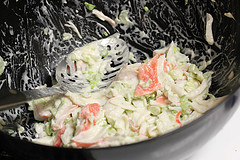 Step 1: Break up the crab into small chunks. You can do this with your hands or use two forks to shred the imitation crab meat. Place crab into a medium bowl. Add mayonnaise, lemon juice, celery, and green onion. Season with salt and pepper. Mix until well combined.
Step 2: Place lettuce onto the bottom half of a hamburger bun, top with crab mixture and the top half of the bun.
(Makes 4 servings)
If you enjoyed this article Subscribe to my RSS Feed.