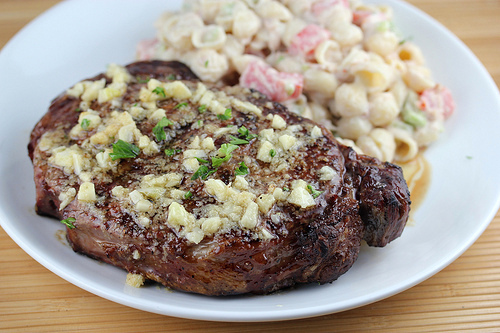 Seasoning grilled steak with salt and pepper is delicious but adding a garlic butter sauce into the mix is even better. Steak on the grill is a must for me during the summer months and this is one of the better ways to prepare steak I have come across. The garlic butter sauce really adds a delicious flavor to the grilled steak and makes for a perfect dinner. Best of all, this recipe is very easy to make and can be prepared on short notice. The steak is first seasoned with salt and pepper, and then placed onto the grill. Once the steak has finished cooking, it is brushed with a garlic and butter sauce. The garlic and butter sauce is nothing more than a combination of butter, garlic powder, and minced fresh garlic. These steaks would go great served with sautéed mushrooms. Enjoy.


Ingredients:
4 lbs beef top sirloin steaks
½ cup butter
2 teaspoons garlic powder
4 garlic cloves (minced)
salt and pepper (to taste)
Cooking Instructions: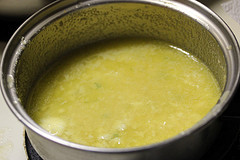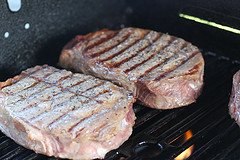 Step 1: Lightly grease the grill grates of an outdoor grill and preheat the outdoor grill to high heat. In a small saucepan, melt the butter with garlic powder and minced garlic over medium-low heat. Remove from heat and set aside.
Step 2: Season both sides of each of the steaks with salt and pepper.
Step 3: Place steaks onto the grill and grill the steaks of 4 to 5 minutes per side, or to your desired doneness. When done transfer steaks to warmed plates. Brush the tops liberally with garlic butter, and allow to rest for 3 minutes before serving.
(Makes 8 Servings)
If you enjoyed this article Subscribe to my RSS Feed.