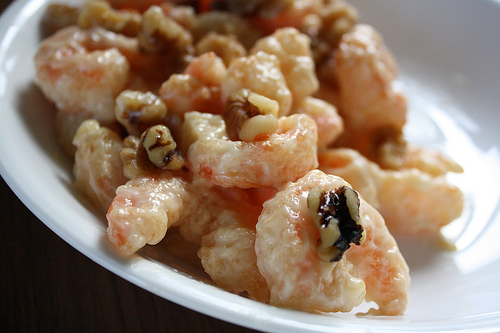 One of the best Chinese seafood dishes is honey walnut shrimp. Honey walnut shrimp is very popular in many restaurants. This dish is actually pretty cheap compared to most shrimp dishes. The shrimp is the only item on the ingredient list that is somewhat expensive. The steps are very easy – the shrimp is lightly battered, deep fried and then tossed with a honey sauce. The real treat here is the candied walnuts, they are delicious! If get some shrimp that are already peeled and deveined this dish can be on the table in about a half hour. Enjoy.


Ingredients:
1lb large shrimp (peeled and deveined, with tails removed)
1 cup water
2/3 cup white sugar
½ cup walnuts
4 egg whites
2/3 cup cornstarch
¼ cup mayonnaise
2 tablespoons honey
1 tablespoon canned sweetened condensed milk
1 cup oil (for frying)
Cooking Instructions: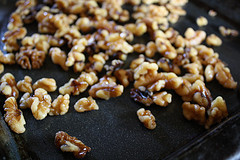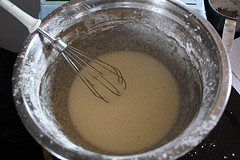 Step 1: In a small sauce pan mix water and sugar. Bring to a boil and add the walnuts. Boil for 2 minutes, drain and place on a baking sheet to dry.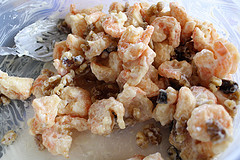 Step 2: Meanwhile, beat egg whites in a medium bowl until foamy. Stir in cornstarch until it becomes somewhat thick. Dip shrimp into the batter. Heat oil in a deep fryer and fry shrimp in batches in oil until golden brown (about 5 minutes). Drain on paper towels.
Step 3: In a serving bowl, mix mayonnaise, honey and sweetened condensed milk. Add shrimp and toss to coat with the sauce. Add walnuts and serve.
(Makes 4 Servings)
If you enjoyed this article Subscribe to my RSS Feed.