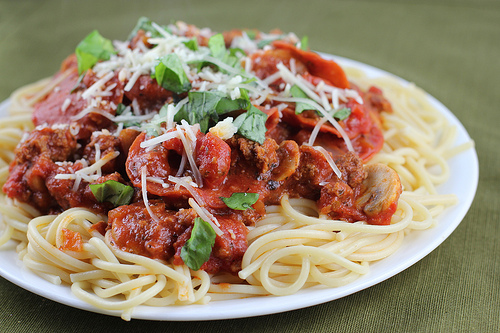 Italian spaghetti is the most popular type of spaghetti there is. This particular spaghetti recipe offers a delicious meat sauce. The sauce is seasoned with various Italian seasonings such as oregano, garlic and basil. You can make adjustments to this recipe if you desire. For example, you could leave out the mushrooms or add more garlic. I enjoy adding pepperoni slices to my spaghetti sauce but that is totally optional. You will want to simmer the sauce for at least a 1 hour and 30 minutes. The longer the simmer the better the sauce will taste. This sauce freezes extremely well. Enjoy.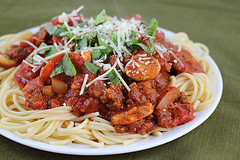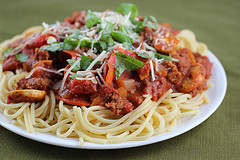 Ingredients:
1lb spaghetti noodles (cooked)
1 1/2lbs ground beef
2 tablespoons olive oil
1 medium onion (chopped)
2 garlic cloves (minced)
2 bay leaves
1 teaspoon oregano
1 teaspoon basil
1 teaspoon Italian seasoning
1 teaspoon salt
ground black pepper (to taste)
1 (6 ounce) can tomato paste
2 (16 ounce) cans tomato sauce
1 (28 ounce) can diced tomatoes
8 ounces fresh mushrooms (sliced)
sliced pepperoni (optional)
Cooking Instructions: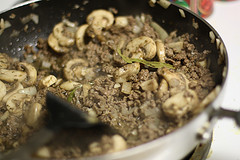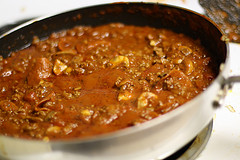 Step 1: Heat olive oil in a large skillet over medium-high heat. Add ground beef, onion, mushrooms and garlic. Season with bay leaves, oregano, basil, Italian seasoning, salt and pepper. Add tomato pasta, tomato sauce, and diced tomatoes. Add pepperoni. Mix well.
Step 2: Bring to a boil, reduce heat, cover and simmer for 1 ½ hours. Use spaghetti sauce on top with cooked noodles.
(Makes 4 Servings)
If you enjoyed this article Subscribe to my RSS Feed.