Lasagna Bread Pizza Recipe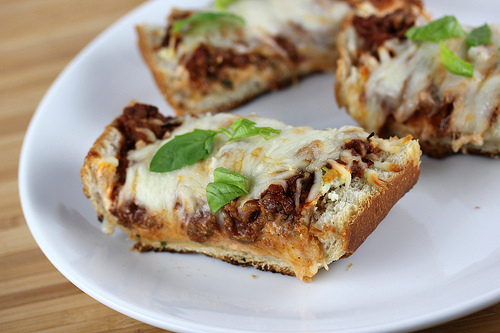 This delicious pizza is just what the name says; it is pizza that uses the ingredients of lasagna. I am a huge fan of lasagna so when I saw the recipe for this pizza, I knew it was something that I wanted to try. This very is easy to prepare and there is no pizza crust involved, the crust is actually French bread pizza that is hollowed out a little bit. The sauce for this pizza is made from tomato sauce, tomato paste and various seasonings. The French bread is layered with a ricotta cheese mixture, the sauce mixture, and mozzarella cheese.  This recipe will only use half of the loaf of bread, so you can use the other half for something else. This lasagna bread pizza makes a great dinner for any night of the week. Enjoy.  Adapted from Taste and Tell Blog.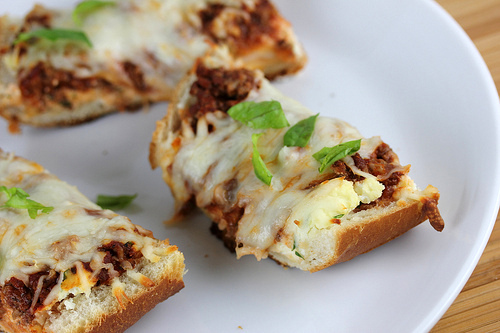 Ingredients:
1 large loaf French bread
1lb ground beef
1 small onion (chopped)
2 garlic cloves (minced)
1 tablespoon tomato paste
1 (15 ounce) can tomato sauce
1 teaspoon dried thyme
1 teaspoon dried oregano
salt and pepper
1 (15 ounce) container ricotta cheese
½ cup grated parmesan cheese
1 egg yolk
2 tablespoons minced fresh parsley
6 ounces shredded mozzarella cheese
fresh basil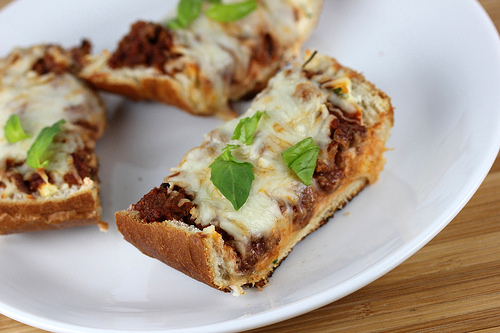 Cooking Instructions: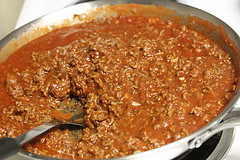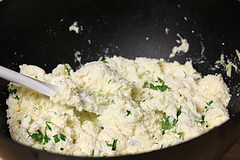 Step 1: Preheat the oven to 375 degrees. Cut the French bread in half lengthwise. Pull out some of the bread from the center of one half of the loaf; make sure to not go all the way through. Keep the other half for another use. Place onto a baking sheet, place into the oven and bake until lightly toasted (about 2 minutes).
Step 2: Heat olive oil in a large skillet over medium-high heat. Add the ground beef and cook until browned. Drain off any excess liquid. Add onion and garlic and cook for 2 minutes. Add the tomato paste, tomato sauce, thyme, and oregano. Season with salt and pepper. Mix well. Reduce heat and simmer for 20 minutes.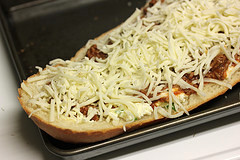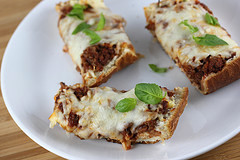 Step 3: In a large bowl combine the ricotta cheese, parmesan cheese, egg yolk, and parsley. Season with salt and pepper. Mix well.
Step 4: Spread the ricotta mixture over the toasted French bread. Top with the meat sauce mixture and then with a layer of shredded mozzarella cheese. Place into the oven and bake for 15-18 minutes or until golden and bubbly. Top with fresh basil if desired.
(Makes 4 Servings)