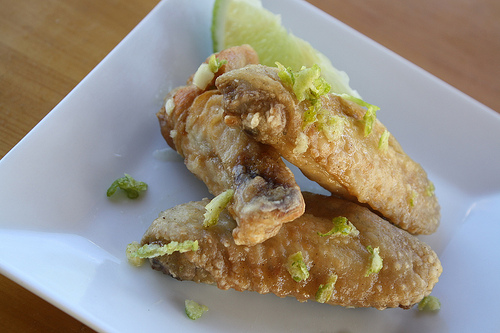 Its football season and serving wings for game time is a must. These lime chicken wings are perfect for a football party. These are a great change up from buffalo wings or teriyaki wings.  I would consider these wings to be some sort of a sweet and sour; with the sweetness coming from the honey and the sour from the lime. These wings are tangy, sweet and absolutely delicious. They will be gone in no time! I used a deep fryer to fry the wings but a large skillet with about 1" of oil will work as well. Best of all, they are too easy to make. You can even save time by getting pre-cut chicken wing pieces. The pre-cut wings might be a little more expensive but it can be worth it. If you are looking for a fantastic appetizer for game day, you can't go wrong with these wings. Enjoy.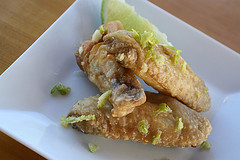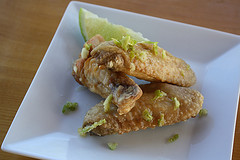 Ingredients:
18 whole chicken wings (cut into pieces)
¼ cup honey
2 tablespoons fresh lime juice
1 tablespoon lime zest (grated)
1 garlic clove (minced)
¼ teaspoon salt
¼ teaspoon ground black pepper
½ cup all purpose flour
2 quarts vegetable oil (for frying)
Cooking Instructions: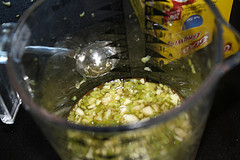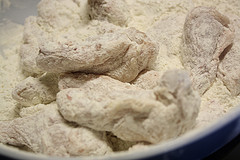 Step 1: Heat a deep fryer to 360 degrees. In a large bowl combine lime juice, honey, lime zest, garlic, salt and pepper. Mix until smooth.
Step 2: Put flour in a plastic bag, add wings and shake until evenly coated.
Step 3: Add wings to the deep fryer and deep fry in batches until wings are fully cooked. Drain on paper towels. If you do not have a deep fry this is also very easy in a pan. Just heat about 1" of oil in a large skillet and fry wings until fully cooked.
Step 4: Toss wings with honey/lime mixture until well coated and serve.
(Makes 6 Servings)
If you enjoyed this article Subscribe to my RSS Feed.