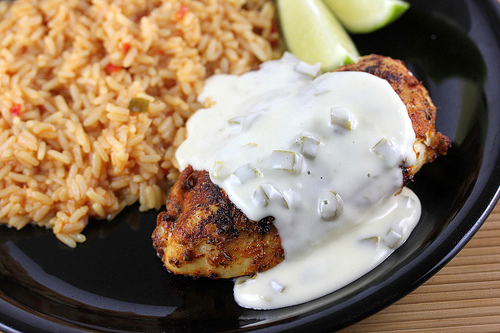 This queso chicken recipe consists of seasoned chicken breasts topped with white queso sauce. If you are a fan of Mexican chicken dishes, you are sure to enjoy this recipe. The queso dip uses white American cheese and it gets spice from pickled jalapeno peppers. If you like your queso more spicy, you can add more chopped jalapenos then the recipe calls for. The chicken is well seasoned with spices such as chili powder, cayenne pepper, and Mexican oregano. The chicken is seasoned with this mixture and then fried in the pan until fully cooked. This recipe goes great served with a side of Spanish rice and lime wedges. Enjoy. Adapted from Mrs. Schwartz's  Kitchen.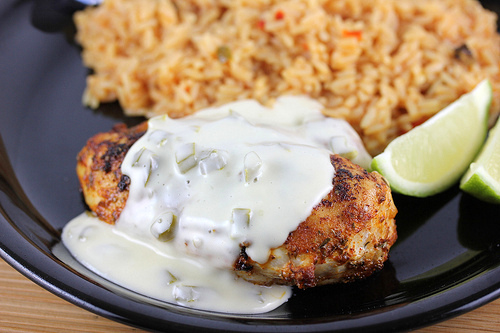 Ingredients:
4 boneless skinless chicken breasts
1 tablespoon vegetable oil
1 teaspoon sea salt
1 teaspoon chili powder
1 teaspoon cayenne pepper
1 teaspoon Mexican oregano
Queso sauce-
2 tablespoons butter
2 tablespoons flour
1 ½ cups milk
12 slices white American cheese (torn into small pieces)
3-4 tablespoons pickled jalapenos (finely chopped)
1 ½ teaspoons salt
Cooking Instructions: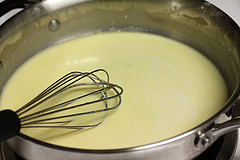 Step 1: In a small bowl combine 1 teaspoon of salt, chili powder, cayenne pepper, garlic powder, and Mexican oregano. Sprinkle the chicken breasts on both sides with the seasoning mixture and rub it in.
Step 2: Heat vegetable oil in a large skillet over medium-high heat. Place the chicken breasts into the skillet and cook for 4 minutes on each side or until the chicken is fully cooked (the internal temperature has reached 165 degrees).
Step 3: To prepare the queso sauce- melt the butter in a saucepan over medium heat. Sprinkle in the flour and whisk to combine. Cook while whisking for 3 minutes to get the flour taste out. Pour in the milk, a little at a time while whisking. Once the mixture is smooth add the cheese and continue to whisk until the cheese is fully incorporated in the sauce. Stir in the jalapenos and salt. If the mixture has become too thick whisk in milk, a little at a time until it has reached a thinner consistency. Taste the mixture and add more salt or jalapenos to your taste.
Step 4: For serving pour the queso sauce over the chicken breasts.
(Makes 4 Servings)
If you enjoyed this article Subscribe to my RSS Feed.