Salt and Pepper Shrimp Recipe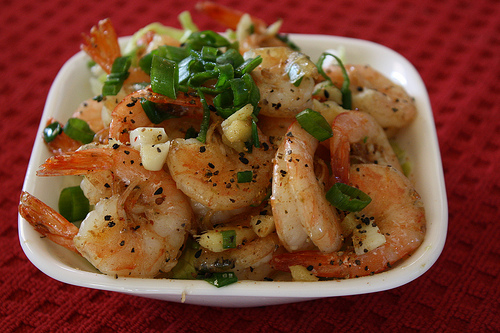 Salt and Pepper Shrimp can apparently be found a several Chinese buffets; Although, I have not actually seen it at one around here. What is so unique about this recipe is the shrimp are eaten with the shell on. This may be a turn off to some people, if it is please feel free to remove the shell after cooking. What I like about having the shell on is it gives the shrimp a nice crunch. Just as the name says, this recipe uses a lot of salt and pepper. It also uses ingredients such as fresh garlic and ginger. The flavors blend perfectly to create fantastic tasting shrimp. The shrimp are first deep fried for 20 seconds, and then fried in the wok for another 20 seconds. This is another fantastic Chinese recipe. Enjoy.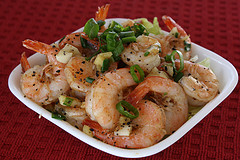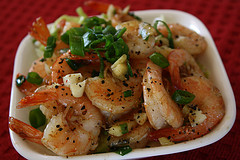 Ingredients:
1 ½ lbs large raw shrimp (deveined with shells on)
Canola oil (for frying)
1 cup green onions (sliced)
¼ cup fresh garlic (minced)
¼ cup fresh ginger (minced)
½ tablespoons sea salt
½ tablespoon ground pepper mix (black, green, red, ect.)

Cooking Instructions: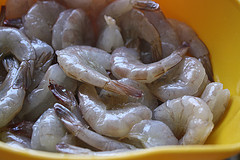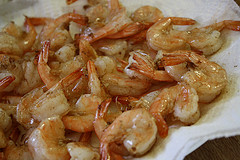 Step 1: Pat dry shrimp with paper towels. Heat a deep fryer to 375 degrees. Add shrimp and deep fry for 20 seconds. Remove and drain on paper towels.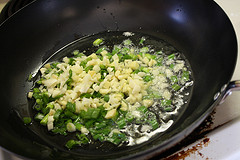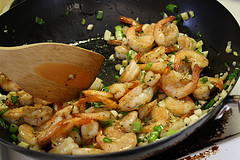 Step 2: Coat the wok with a little oil and sauté green onions, garlic and ginger for 15 seconds. Add the shrimp and season with salt and pepper. Stir fry for 20 seconds and serve.
(Makes 3 Servings)