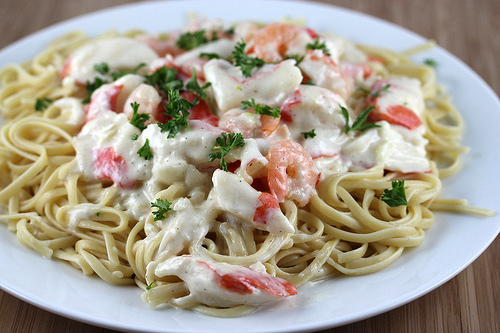 I love seafood pasta dishes and when you add more than one type of seafood into the dish, the result is even more amazing. This seafood pasta recipe consists of both imitation crab and cooked shrimp. The seafood is cooked in a white alfredo style sauce and then served over your favorite pasta. If you want you can use real crab meat in place of imitation crab. The recipe calls for small salad shrimp but I used medium shrimp. This is a very easy recipe to prepare and it does not take very long to cook at all. It goes great served with garlic bread. Enjoy.


Ingredients:
1 (16 ounce) package linguini pasta (or your favorite pasta)
¼ cup butter
1 garlic clove (chopped)
1 cup heavy cream
½ pound imitation crab meat
½ pound cooked salad shrimp
1 cup freshly grated Parmesan cheese
¼ cup mozzarella cheese
salt and pepper (to taste)
2 tablespoons fresh parsley (chopped)
Cooking Instructions: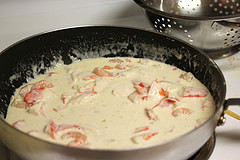 Step 1: Cook pasta according to package directions. Melt butter in a large skillet over medium heat. Add garlic and sauté until tender. Stir in cream and cook while stirring until thickened (about 5 minutes). Add imitation crab, shrimp, parmesan cheese, mozzarella cheese, and salt and pepper. Reduce heat to low and cook for 2-3 minutes, until heated through.
Step 2: Drain the pasta and transfer it to a serving platter, and top with the seafood sauce. Garnish with chopped fresh parsley.
(Makes 4 Servings)
If you enjoyed this article Subscribe to my RSS Feed.