A delicious and easy way to prepare Mexican shredded pork for tacos is by using the slow cooker. The process to preparing this pork taco meat can be done by simply combining all of the ingredients in the slow cooker. Instead of just sprinkling the seasonings over the top of the roast you can rub the spices into the meat before adding it to the slow cooker if you want. This pork taco meat gets a lot of its flavor from seasonings such as chili powder, cumin, and oregano. It gets a little kick from crushed red pepper flakes. If you want even more heat you can add some cayenne pepper into the mix. This pork taco meat can be used in a variety of different ways. It can be used in tacos, burritos, enchiladas, etc. I like to serve this meat on corn tortillas with queso fresco, green onion, cilantro, and hot sauce. Enjoy.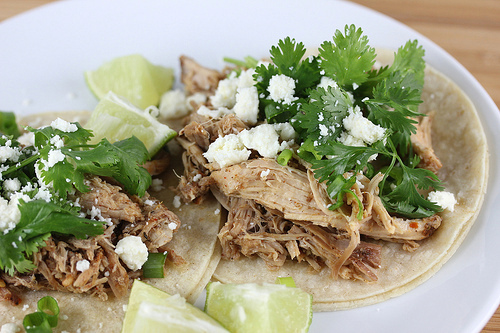 Ingredients:
3lbs boneless pork shoulder blade roast
1 cup vegetable broth
4 garlic cloves (minced)
Taco seasoning-
1 teaspoon chili powder
1 teaspoon ground cumin
1 teaspoon ground black pepper
½ teaspoon oregano
½ teaspoon paprika
½ teaspoon crushed red pepper flakes
Cooking Instructions:
Step 1: To make the taco seasoning—in a small bowl combine chili powder, cumin, black pepper, oregano, paprika and crushed red pepper flakes.
Step 2: Trim any visible fat off of the pork roast. Place the roast into the bottom of the slow cooker. Sprinkle garlic on top of the roast. Sprinkle the taco seasoning evenly on top of the roast. Pour in the vegetable broth around the roast. Cover and cook on high for the first 3 hours. Then cook on low for 5 hours.
Step 3: Remove the pork and shred it using two forks. Return the pork to the slow cooker and mix with the juice.
(Makes 8 Servings)
If you enjoyed this article Subscribe to my RSS Feed.