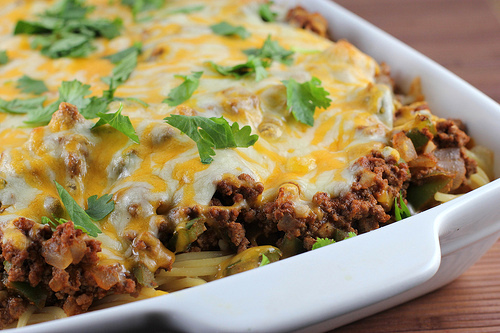 Southwestern spaghetti combines Italian and Mexican cuisine to make an amazing and memorable pasta dish. This is a type of baked spaghetti so the dish is finished cooking in the oven.  Ground beef is cooked in the pan and seasoned with garlic, chili powder, cumin and various additional seasonings. It is then placed on top of the cooked spaghetti noodles, topped with cheese, and placed into the oven. This is a fairly easy dish that doesn't take very long to prepare. If you are looking for a great dinner recipe give this one a try. Enjoy.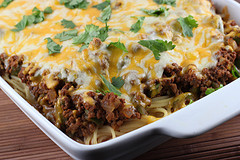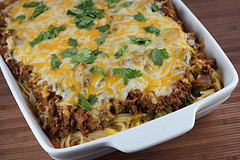 Ingredients:
8 ounces spaghetti noodles (cooked according to package directions)
½ cup milk
1 egg
1lb ground beef
1 medium onion (chopped)
1 medium green bell pepper (chopped)
2 garlic cloves (minced)
1 teaspoon chili powder
½ teaspoon cumin
½ teaspoon oregano
½ teaspoon salt
¼ teaspoon pepper
2 (8 ounce) cans tomato sauce
½ cup shredded cheddar cheese
½ cup shredded Monterey jack cheese
Cooking Instructions: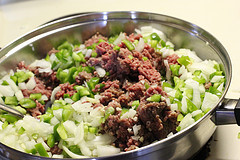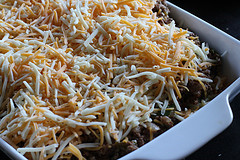 Step 1: Pre-heat the oven to 425 degrees. In a large bowl (or in the pot you boiled the spaghetti in) combine the drained cooked noodles with milk and egg. Mix well. Butter a 9×13 inch casserole dish and pour the noodle mixture into the bottom.
Step 2: In a large skillet brown ground beef, onion, green bell pepper, and garlic. Drain. Add chili powder, cumin, oregano, salt and pepper. Stir and cook for 2 minutes. Stir in the tomato sauce and cook for 2 more minutes.
Step 3: Spread the meat sauce over the spaghetti noodles. Top with cheese. Place into the oven and bake at 425 degrees for 10 minutes or until the cheese is melted and bubbly.
(Makes 6 Servings)
If you enjoyed this article Subscribe to my RSS Feed.