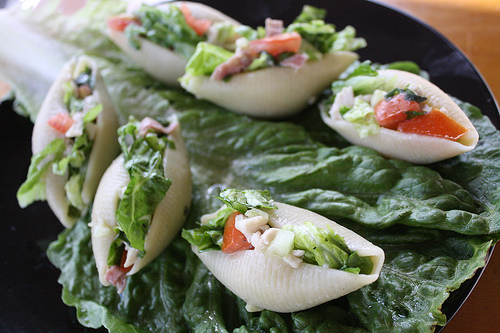 Sorry, I know you guys are probably getting tired of all the stuffed shell recipes but I couldn't resist… last one for awhile, I promise. Though, as you can see this recipe is much different than your normal stuffed pasta shells. Instead of the traditional spaghetti sauce and cheese, salad ingredients go into the shells. Some of the ingredients include romaine lettuce, tomatoes, cucumber, and much more. There is a little work required because everything needs to be chopped but its well worth it. If you don't feel like stuffing the shells you could get a box of smaller shells and just make a pasta salad. These are served cold and are a great summer treat. They make a perfect appetizer for parties. Enjoy.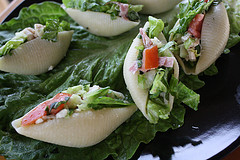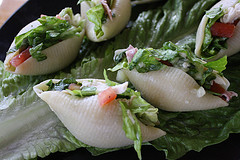 Ingredients:
1 (16 ounce) package jumbo pasta shells
4 cups romaine lettuce (chopped)
½ cup fresh basil (chopped)
1 cup tomatoes (chopped)
¾ cup cucumber (peeled and chopped)
1 cup cooked chicken (chopped)
3 ounces hard salami (chopped)
1/3 cup roasted garlic vinaigrette dressing
Cooking Instructions: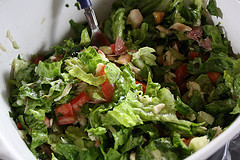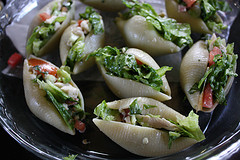 Step 1: Cook pasta shells according to package directions. Drain and allow to cool.
Step 2: Place lettuce, basil, tomatoes, cucumber, chicken and salami in a large bowl. Pour vinaigrette dressing over the salad mixture and toss to coat.
Step 3: Stuff each shell with the salad mixture. Cover and refrigerate for 2 hours before serving.
(Makes about 20-25 shells)
If you enjoyed this article Subscribe to my RSS Feed.