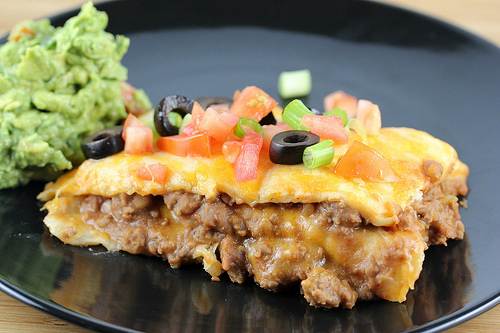 If you have never prepared a taco bake before it is a very simple and delicious meal for any night of the week.  Taco bake consists of layering flour tortillas in a casserole dish with taco meat and cheese, in a similar way you would make lasagna. This recipe consists of very few ingredients so I would consider it a good starter recipe. What this means is that you can add additional ingredients as you choose. You could add a little salsa to the meat mixture; add black beans, or corn, and so on. The best part of the recipe is the meat mixture which includes ground beef, taco seasoning, refried beans and canned green chilies. After the taco bake has finished cooking, you can top it with ingredients such as sour cream, guacamole, salsa, black olives, green onion, and tomatoes. Enjoy.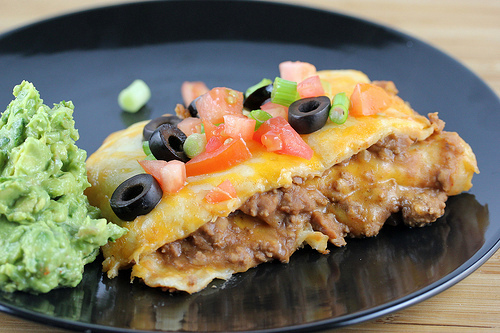 Ingredients:
1lb lean ground beef
1 (1.25 ounce) package taco seasoning mix
2 (16 ounce) cans refried beans
1 (4 ounce) can chopped green chilies (drained)
4 (10 inch) flour tortillas
3 cups shredded Colby-jack cheese
Optional toppings-
2 green onions (chopped)
2 roma tomatoes (chopped)
black olives
guacamole
salsa
sour cream

Cooking Instructions: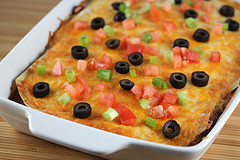 Step 1: Preheat the oven to 375 degrees. In a large skillet over medium high heat, add ground beef. Cook the ground beef until browned. Drain off any excess liquid. Mix in the taco seasoning, refried beans, and green chilies. Cook until heated through.
Step 2: Lightly grease the bottom and sides of a 9×13 inch baking dish. Spread half of the meat mixture onto the bottom of the baking dish. Top with two tortillas (trimming if necessary to fit), and half of the cheese. Repeat layers.
Step 3: Place into the oven and bake for 35 to 45 minutes at 375 degrees until heated through and the cheese is bubbly. Remove from the oven and top with any of the optional toppings such as green onions, tomatoes, and black olives. Let cool for 5 minutes before serving.
(Makes 8 Servings)
If you enjoyed this article Subscribe to my RSS Feed.