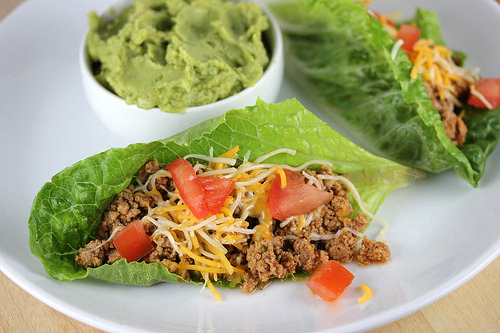 This recipe is great if you are looking for a healthier and lighter alternative to normal hard shell or soft shell tacos. Instead of using flour wraps or shells, this recipe wraps up taco meat and your favorite taco ingredient into romaine lettuce leaves. The tacos are made with lean ground turkey instead of beef and do not use a packet taco seasoning at all. Instead, the tacos are seasoned with spices such as chili powder, cumin, and oregano. Romaine lettuce has the best flavor for these tacos but leaves from other types of lettuce (such as iceberg) may work as well. Some good topping ideas for these lettuce wraps would be diced tomatoes, shredded cheese, and sour cream. If you want something healthier, try low fat sour cream and low fat shredded cheese. These taco lettuce wraps are also great served with salsa. Enjoy. Adapted from skinnytaste.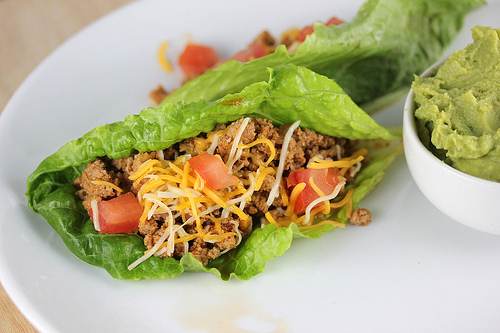 Ingredients:
1.3lbs 99% lean ground turkey
1 teaspoon garlic powder
1 teaspoon cumin
1 teaspoon salt
1 teaspoon chili powder
1 teaspoon paprika
½ teaspoon oregano
½ small onion (minced)
2 tablespoons green bell pepper (minced)
¾ cup water
1 (4 ounce) can tomato sauce
8 large lettuce leaves from romaine lettuce (or iceberg lettuce)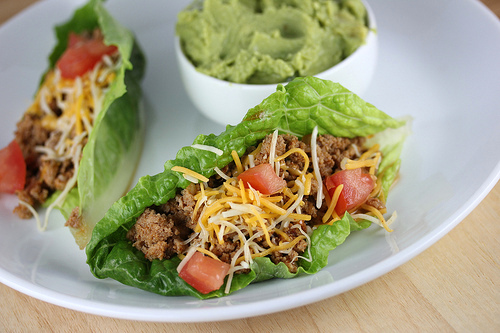 Cooking Instructions: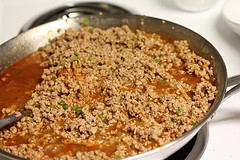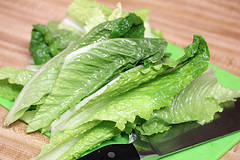 Step 1: In a small bowl combine garlic powder, cumin, salt, chili powder, paprika and oregano. Mix well and set aside.
Step 2: In a large skillet over medium-high heat, brown the ground turkey. When the turkey is no longer pink add the seasoning mixture and mix well. Add onion, bell pepper, water, and tomato sauce. Cover and simmer on low for about 20 minutes.
Step 3: Rinse the lettuce leaves with cold water and allow them to dry. Place some of the meat mixture in the center of the leaf and top with tomatoes, cheese, sour cream, salsa or whatever you prefer.
(Makes 4 Servings)
If you enjoyed this article Subscribe to my RSS Feed.