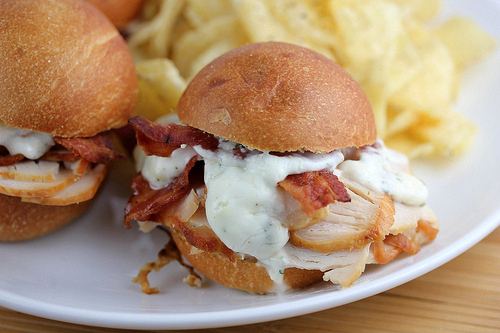 These turkey bacon sliders make a perfect appetizer or you can even serve them for lunch or dinner. Football season is quickly approaching and these sliders make a great addition to any game day menu. These small sandwiches are topped with sliced turkey, crispy bacon, and best of all, a ranch and gorgonzola cheese dressing. If you have trouble finding slider rolls, no problem, dinner rolls work great as well. If you have problems finding gorgonzola cheese, blue cheese will work in its place. Gorgonzola cheese has a rather strong flavor, so you may want go a little light of the dressing if you would prefer. These sliders are extremely easy to prepare and can be made into large quantities if needed. Enjoy. Adapted from From Valerie's Kitchen.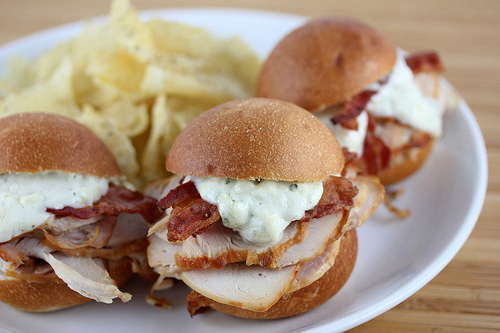 Ingredients:
1 cup prepared light ranch dressing
½ cup crumbled gorgonzola cheese (or blue cheese)
12 slider buns (or dinner rolls)
3/4lb thin sliced deli turkey
12 pieces of thick sliced bacon (cooked until crispy)
Cooking Instructions: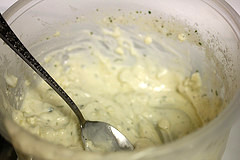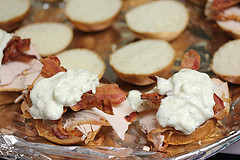 Step 1: Preheat the oven to 350 degrees. Line a 9×13" baking sheet with aluminum foil. In a small bowl mix together ranch dressing and gorgonzola cheese.
Step 2: Assemble the sliders by putting some of the turkey onto the top of the bottom half of the slider bun. Tear a piece of the bacon in half and place both halves on top of the turkey. Top with a dollop of the Ranch Gorgonzola dressing and then place the top half of the roll onto the sandwich. Place the slider onto a baking sheet. Repeat until all of the sliders are assembled.
Step 3: Place the baking sheet into the oven and bake the sliders at 350 degrees for 15 minutes. Remove from the oven and serve with the remaining Ranch Gorgonzola cheese dressing on the side for dipping.
(Makes 12 Sliders)
If you enjoyed this article Subscribe to my RSS Feed.