I thought I would try a different type of chili this week, turkey chili. This chili uses ground turkey for a slightly different flavor from your average chili with beef. The result was one of the best chili recipes I have ever tried. There are so many vegetables packed into this recipe such as zucchini, onions, green onions, green pepper, tomatoes and beans. Don't let the lengthy ingredient list discourage you from making this because it's well worth it. What's great about this recipe is if you don't want to do much work, it can be cooked in the slow cooker. I love this chili topped with sour cream, green onions and cheddar cheese. Corn chips also go fantastic with this recipe. Give this a try for Cinco de Mayo, or any party or event. Enjoy.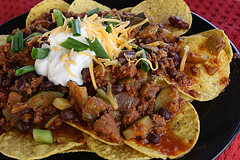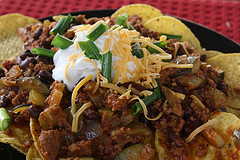 Ingredients:
3 tablespoons oil (divided)
1 1/2 lbs ground turkey
1 (1 ounce) package taco seasoning mix
1 teaspoon ground coriander
1 teaspoon dried oregano
1 teaspoons chili pepper flakes
2 tablespoons tomato paste
1 (14.5 ounce) can beef broth
1 (7 ounce) jar salsa
1 (14.5 ounce) can crushed tomatoes
1 (15.5 ounce) can kidney beans (drained)
1 (15.5 ounce) can black beans (drained)
1 (7 ounce) can chopped green chile peppers
1 medium onion (finely chopped)
1 green pepper (diced)
3 medium zucchini (halved lengthwise and sliced)
1 bunch green onions (chopped)
1 cup sour cream
1 cup shredded cheddar cheese
Cooking Instructions: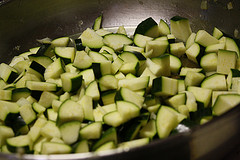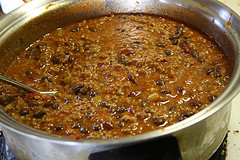 Step 1: In a large stock pot heat oil over medium-high heat. Add ground turkey to the stock pot and break it up with a spatula or spoon. Season with taco seasoning, coriander, oregano, chili flakes, and tomato paste. Mix until the meat is coated with the seasonings. Continue cooking until the turkey is browned.
Step 2: Pour in beef broth, bring to a boil, and reduce heat and simmer for 5 minutes or until the broth has slightly reduced. Add salsa, tomatoes, and green chilies. Add kidney beans and black beans. Continue cooking at medium heat for 10 minutes.
Step 3: While chili is cooking heat 1 tablespoon of oil in a skillet over medium high heat. Stir fry onion and green pepper until onion is translucent. Add onion and bell pepper to chili and mix well. In the same pan used to fry the onion and pepper, add the last bit of oil and add the sliced zucchini. Stir fry for 5 minutes. Add the zucchini to the chili.
Step 4: Continue cooking for 15 minutes or more. Add water is chili becomes too thick. To serve- top chili with sour cream, cheddar cheese, and green onions. Serve with corn chips if desired.
(Makes 6 Servings)
If you enjoyed this article Subscribe to my RSS Feed.