Chicken Parmesan Sliders Recipe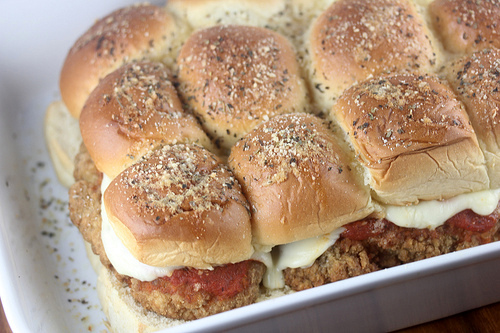 If you need more delicious slider ideas for your party, these chicken parmesan sliders might be exactly what you are looking for. In this recipe cooked breaded chicken is placed onto slider rolls and topped with pasta sauce, mozarella, parmesan cheese, and a garlic butter sauce. This recipe is easy to prepare by buying frozen breaded chicken tenders from the store and premade pasta sauce. You can serve these sliders with french fries. Enjoy.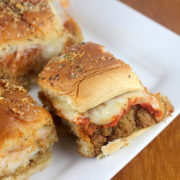 Chicken Parmesan Sliders
Ingredients:
16 slider buns
1lb frozen breaded chicken tenders
2 cups pasta sauce
2 cups shredded mozzarella cheese
1/2 cup shredded parmesan cheese
3 tablespoons butter (melted)
1 teaspoon garlic powder
1 teaspoon italian seasoning
Directions:
Cook the chicken tenders according to package directions.
Preheat the oven to 350 degrees F. Place the bottom half of the slider buns onto a greased casserole dish.
Place the cooked chicken tenders onto the bottom of the slider buns. Spread pasta sauce over the tenders. Top with mozarella and parmesan cheese. Place the top of the slider buns over the cheeses.
Mix the melted butter with garlic powder. Pour the mixture over the buns and sprinkle with italian seasoning.
Cover the dish with foil and bake for 10 minutes. Remove the foil and continue baking for an additonal 10 minutes.