Who doesn't love turkey burgers? The lean ground meat combines juiciness with a robust flavor to give an exciting batch of healthy burgers every time. And if you own an air fryer, then the fun gets doubled, as they've become a favorite for preparing different kinds of burger recipes. But it helps to watch the timing for air fryer turkey burgers so the patties don't overcook or dry out too quickly.
Why Air Fryer Turkey Burgers
Air fryers are fast becoming a regular appliance for almost everything, so it's only a matter of time before turkey burgers join the list. And if you're still not sure why it should even be attempted, then perhaps these perks will change your mind;
It's Quick: The speedy cooking process of air fryers ensures that your turkey burgers will be done in little time, making them ideal for quick menus and cravings!
Less Mess: You won't have to worry about a heavy cleanup with the air fryer, as the turkey burgers cook in the appliance's basket instead of a large sheet pan or non-stick cast-iron skillet.
Healthy Cooking: The cooking uses dry, hot air, so there's no fear of extra oil as expected in frying, grilling, or baking.
More Juiciness: Remember the hot, dry air technology? It cooks so quickly that the turkey burger has little time to lose moisture, resulting in a juicy batch.
Air Fryer Turkey Burgers Steps
Cooking excellent turkey burgers in an air fryer doesn't only rest with the timing, as other factors come into play to ensure your recipe is perfect. And these factors play a role in making the burger great from start to finish.
Seasoning Turkey
Ground turkey welcomes a complex combination of seasonings and spices, including black pepper, onion powder, paprika, and garlic powder; add fresh herbs. But you can also include minced aromatics or fresh herbs if you prefer. Other recipes may use hot sauce, Worcestershire sauce, soy sauce, and seasoning mixes for a unique flavor. But you'll need a binder like eggs or mayonnaise to moisten and bind the meat and breadcrumbs to make a structure base.
Mixing the Meat
Keep the meat cold throughout the mixing process, and only contact it with cold items like a chilled fork. If you're mixing by hand, work gently so you don't over-handle the meat because body heat can upset the binding structure and make the patty, though. If you notice the ground turkey is losing chill, return it to the fridge for a few minutes before continuing.
Forming the Patties
Because the turkey burgers will cook in an air fryer, you'll want the patties no more than a half-inch thick. So, after mixing, cut the ground turkey into equal sizes and roll each into a ball. Then, gently shape the balls with your fingers to form a burger patty and place it on a foil or parchment-lined baking sheet. You can also use a burger press to shape the turkey balls, so long as the surface is cold. After forming the patties, cover the tray and chill them for 15 to 20 minutes in the fridge before cooking.
View this post on Instagram

Cooking Time for Air Fryer Turkey Burgers
Most turkey burger patties are shaped to a maximum of half-inch thickness and cooked in a 350F air fryer. And this takes around 10 to 15 minutes, depending on the burger size. The parties will need to be flipped once when cooked halfway through. And a meat thermometer is used to check for internal doneness of 165F.
Once the burgers are done, allow them to rest on the serving plate for five minutes before you arrange them in the buns and serve.
Print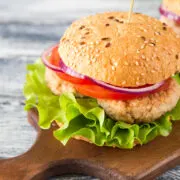 Air Fryer Turkey Burgers (6 to 8 Servings)
---
Ground turkey, 1¾ pounds
Half cup of Italian seasoning
One-third cup of mayonnaise

Two tablespoons

of Worcestershire sauce

One tablespoon

of minced garlic

One tablespoon

of onion powder

One tablespoon

of kosher salt
Half teaspoon of freshly ground black pepper
Half teaspoon of poultry seasoning
---
Instructions
Line a baking sheet with foil or parchment paper, coat it with non-stick spray, then combine the ground turkey with the spice and seasoning in another bowl. Mix gently, ensuring to not over-handle the meat as you mix, and keep the bowl and your hands cold throughout.
When fully combined, cut a portion of the seasoned ground turkey, roll it into a ball, and form into a patty with a slight dimple in the middle. Repeat until you have six to eight equal-sized turkey patties properly spaced on the lined baking sheet. Then, cover the tray with foil or parchment and chill for 15 minutes in the fridge.
Preheat the air fryer to 350F, and grease the basket with non-stick spray. Then, take the turkey patties out and arrange them in the basket. Work in batches if the basket is too small, and keep the tray with the raw patties in the fridge until cooking time.
Cook the turkey patties for 10 to 15 minutes depending on the thickness, flipping once at the halfway mark. You want the turkey burgers to reach a golden crisp before flipping them. Also, use a meat thermometer to check for final internal doneness of 165F after flipping. For turkey cheeseburgers, add a cheese slice to the patties at the final minute of cooking.
Rest the turkey burgers for five minutes, then arrange in buns, top as desired, and serve.
You can also follow this video recipe for more tips.