Teriyaki Grilled Shrimp Recipe

Teriyaki grilled shrimp just like from Red Lobster Restaurant is great on the grill. This recipe is easy enough to prepare, all that you need is some homemade teriyaki sauce, raw shrimp, and skewers. The teriyaki sauce is used as both a glaze and a marinade. The teriyaki sauce gets a lot of flavor from ingredients such as soy sauce, sesame oil and garlic. The shrimp can be topped with sesame seeds if desired. Enjoy.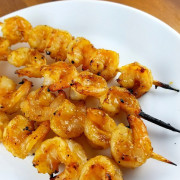 Teriyaki Grilled Shrimp
Ingredients:
2lbs raw shrimp (at least medium size, peeled and deveined)
1 ½ cups cold water
¾ cup packed brown sugar
½ cup soy sauce
1 teaspoon garlic powder
3 tablespoons cornstarch
1 teaspoon sesame oil
Sesame seeds
Directions:
In a medium sauacepan combine water, brown sugar, soy sauce, garlic powder, cornstarch, and sesame oil and stir to combine. Stir while cooking over medium heat until thickened. Remove from heat. Allow the sauce to cool.
Add 1/2 of the sauce and the shrimp to a sealable container and marinate for 15 minutes. Remove the shrimp from the marinade and thread onto skewers. Discard the marinade.
Heat an outdoor grill to medium heat. Add the shrimp skewers and grill for 5-6 minutes on each side or until the shrimp is pinked and cooked through. Brush the shrimp with the reserved marinade/sauce while grilling.