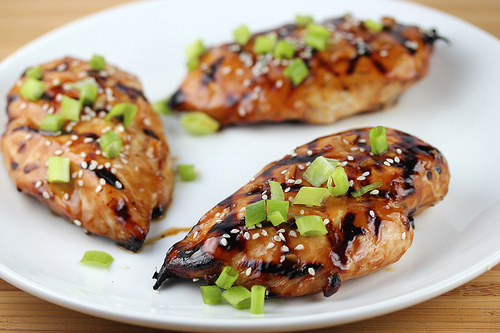 Asian flavors go perfectly in this grilled chicken marinade. This grilled chicken recipe consists of a delicious marinade that is used to give amazing Asian flavor to the chicken. The marinade is also reserved and used for brushing the chicken while it's on the grill for even more intense Asian flavor. This recipe uses classic Asian ingredients such as soy sauce, sesame oil, honey, ginger, and garlic. If you do not want to use chicken, I could see this marinade being delicious with pork as well. As you can see from the ingredient list, this is a very simple dish to prepare and takes very little time. Enjoy.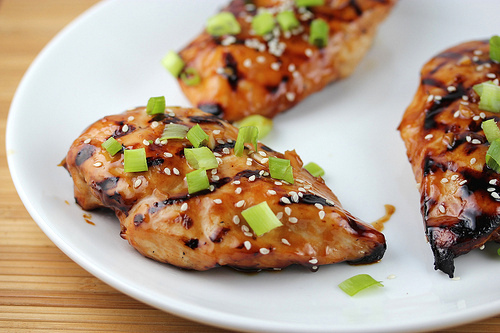 Ingredients:
¼ cup soy sauce
4 teaspoons sesame oil
2 tablespoons honey
3 slices fresh ginger root (chopped)
2 garlic cloves (crushed)
4 boneless skinless chicken breast halves
Cooking Instructions: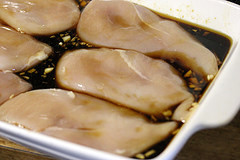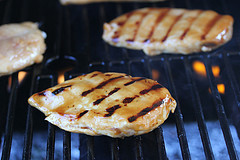 Step 1: In a shallow dish whisk together soy sauce, sesame oil,  honey, ginger root, and garlic. Place chicken breast halves into the dish. Set aside to marinate for 15 minutes.
Step 2: Lightly grease the grill grates of an outdoor grill. Heat the grill to medium-high heat. Drain the marinade from the chicken into a small saucepan. Bring to a boil, and simmer over medium heat for 5 minutes. Set aside for basting.
Step 3: Place chicken breasts onto the grill and cook for 6 to 8 minutes per side, or until the juices run clear and the chicken is fully cooked (the internal temperature has reached 165 degrees). Baste the chicken frequently on both sides with the remaining marinade while grilling. The chicken will turn a golden brown color.
(Makes 4 Servings)
If you enjoyed this article Subscribe to my RSS Feed.