Breakfast Enchiladas Recipe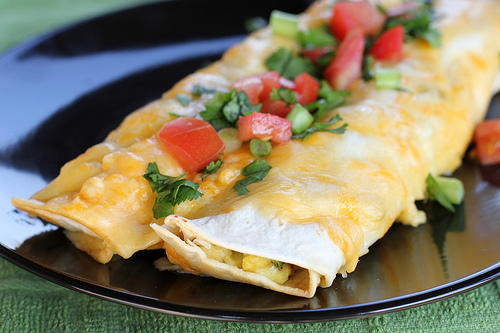 Here is another great Mexican breakfast dish- breakfast enchiladas. Enchiladas are extremely popular all around and this recipe is perfect for anyone looking to try something a little different. It takes a little work but its well worth it in the end. The enchiladas are filled with an egg and hot pork sausage mixture. If you do not want any spice, just use regular pork sausage instead of the hot. The best part about this recipe is the cheese sauce. The cheese sauce gets its great flavor from cheddar cheese and green chilies. After the enchiladas are baked they are topped with tomatoes, green onion and cilantro. Enjoy.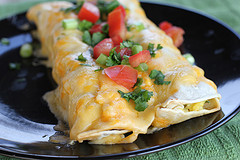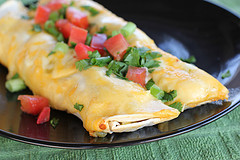 Breakfast Enchiladas
Prep time: 30 minutes Cook time: 30 minutes
Ingredients:
1lb hot pork sausage
2 tablespoons butter
4 green onions (thinly sliced)
2 tablespoons cilantro (chopped)
14 eggs (beaten)
¾ teaspoon salt
½ teaspoon pepper
1 ½ cups cheese sauce
8 (8 inch) flour tortillas
1 cup shredded jalapeno jack cheese
Cheese Sauce-
1/3 cup butter
1/3 cup flour
3 cups milk
2 cups shredded cheddar cheese
1 (4 ½ ounce) can chopped green chilies
¾ teaspoon salt
Toppings-
diced tomatoes
sliced green onion
chopped cilantro
Cooking Instructions: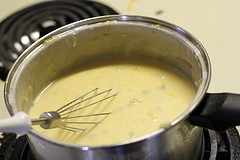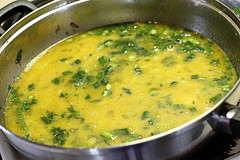 Step 1: To make the cheese sauce- Melt butter in a large saucepan over medium-low heat. Whisk in flour until smooth. Cook while whisking constantly for 1 minute. Gradually whisk in the milk a little at a time. Cook over medium heat while whisking for 5 minutes or until the sauce has thickened. Remove from heat and whisk in cheddar cheese, green chilies and salt.
Step 2: Heat and large skillet to medium high heat. Add pork sausage and cook until sausage crumbles and is no longer pink. Remove the sausage from the pan with a slotted spoon and drain on paper towels. Drain any excess grease from the pan.
Step 3: In the same skillet melt butter over medium heat. Add green onions and cilantro, sauté for 1 minute. Add eggs, salt and pepper. Cook without stirring until the eggs begin to set on the bottom of the pan. Draw a spatula across the bottom of the pan to form large curds. Cook until the eggs are thickened but still moist. Remove from heat and fold in 1 ½ cups of the cheese sauce and the cooked sausage.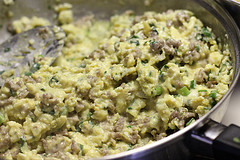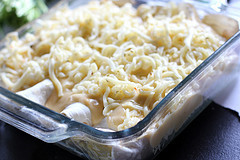 Step 4: Spoon about 1/3 cup of the egg mixture down the center of each tortilla. Roll up and place seam side down in a lightly greased 13×9" baking dish. Pour the remaining cheese sauce over the tortillas. Sprinkle with jack cheese.
Step 5: Place into the oven and bake at 350 degrees for 30 minutes or until the sauce is bubbly. Remove from the oven and serve with tomatoes, cilantro, and green onions.
Yield: (4 Servings)