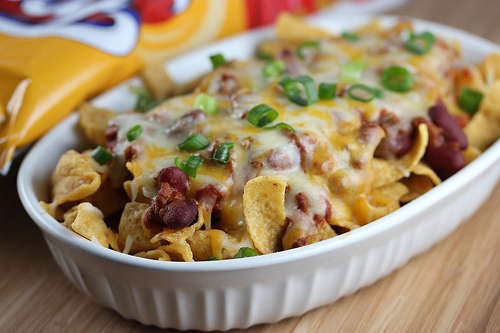 Frito pie consists of Frito chips topped with chili and cheddar cheese. Apparently this dish originated in the south; I just discovered it recently and knew I had to make it. In this recipe we are making our own chili but if you want to save time you can use a can of chili as well. After the chili is done cooking it is spooned on top of Fritos in a casserole dish, topped with cheese and then baked for a few minutes. If you want you can just pile the chili and cheese on top of the chips and skip the baking step. You can top with additional ingredients as well such a green onion, white onion, and sour cream. Enjoy.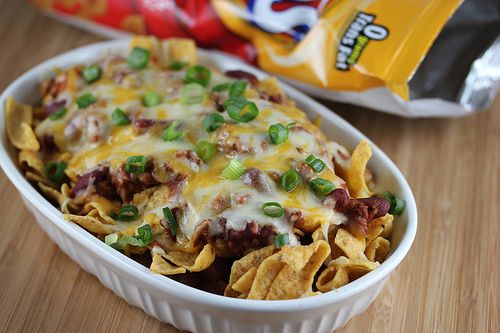 Ingredients:
1 (10.5 ounce) bag Fritos corn chips
1 bag shredded cheddar cheese
Chili-
2 lbs ground beef
½ onion (chopped)
1 teaspoon ground black pepper
½ teaspoon garlic salt
2 ½ cups tomato sauce
1 (8 ounce) jar salsa
4 tablespoons chili seasoning mix
1 (15 ounce) can light red kidney beans
1 (15 ounce) can dark red kidney beans
Cooking Instructions: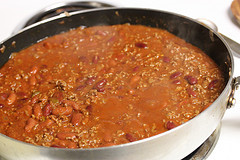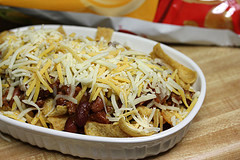 Step 1: In a large sauce pan over medium high, add ground beef and onion and sauté for 10 minutes (or until the meat is browned). Drain off any excess grease. Stir in black pepper, garlic salt, tomato sauce, salsa, chili seasoning mix, and kidney beans. Reduce heat and simmer for at least 1 hour.
Step 2: Pre-heat the oven to 350 degrees. Lightly grease a 9×13" casserole dish. Place Frito chips in a layer on the bottom of the casserole dish. Spoon chili over the Fritos, and top with shredded cheddar cheese.
Step 3: Place into the oven and bake at 350 degrees for 20 minutes.
(Makes 8 Servings)
If you enjoyed this article Subscribe to my RSS Feed.