Jalapeno Popper Rolls Recipe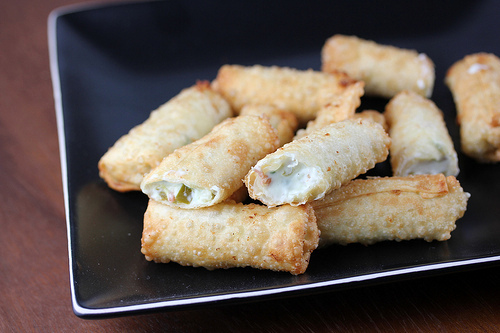 These jalapeno poppers rolls are a delicious appetizer that consist of jalapeno popper ingredients rolled up inside of wonton wrappers. They are very similar in appearance to small egg rolls. This appetizer is extremely easy to prepare in large batches for game day. If you are using a deep-fryer you should be able to fry several of these at a time. Some of the filling ingredients in this recipe include jalapeno peppers, Monterey jack cheese, cream cheese, green onions, and bacon bits. I used cooked crumbled bacon instead because I prefer the flavor a little better. It does require a little time and effort but roll the cream cheese mixture into each wonton wrapper but it is well worth it. If you love jalapeno poppers give this recipe a try. Enjoy.


Ingredients:
1 (8 ounce) package cream cheese (softened)
1 cup Monterey jack cheese (shredded)
1 (4 ounce) can jalapeno peppers (diced)
1 teaspoon fresh garlic (minced)
3 green onions (diced)
1 tablespoon bacon bits (or more, to taste)
ground black pepper (to taste)
1 (16 ounce) package wonton wrappers
1 egg
1 quart vegetable oil (for frying)
Cooking Instructions: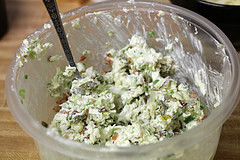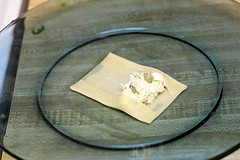 Step 1: In a medium bowl mix together cream cheese, Monterey jack cheese, jalapeno peppers, garlic, green onions, and bacon bits. Season with a little black pepper.  Beat an egg in a small bowl.
Step 2: Place about 1 teaspoon of the cream cheese mixture into the center of a wonton wrapper. Fold over the left and right corners to the middle. Using a brush or the bottom of a spoon, brush the beaten egg on the edges of the wonton wrappers. Finish rolling up tightly and secure to make sure there are no leaks. Repeat until all of the wonton wrappers are used or the cream cheese mixture is gone.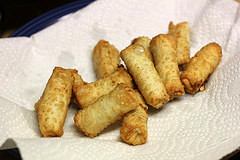 Step 3: In a large skillet heat oil over medium-high heat (these can also be cooked in the deep-fryer at 375 degrees). Drop 3-4 of the rolled wontons into the oil at a time, and quickly fry, turning once until they are golden brown. Drain on paper towels. Repeat until all of the jalapeno popper rolls are fried.
(Makes 15 Servings)