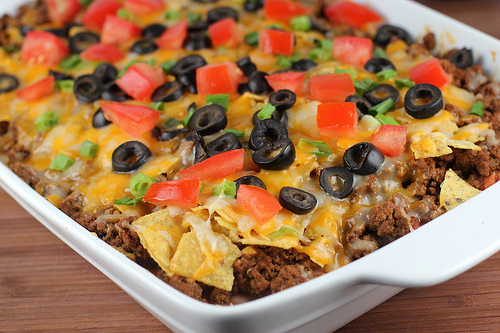 Casseroles just never seem to get old to me. There are so many different things you can turn into a casserole. This Mexican casserole combines your favorite ingredients into a baked dish. The base is crumbled tortilla chips and they are topped with refried beans, salsa, taco meat, and cheese. You can put whatever you want on top of the cheese but I prefer green onion, tomatoes, and black olives. This also goes great with sour cream. The best part is, this is a very easy dish to prepare and will be on the table in no time.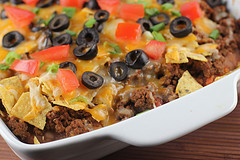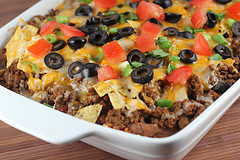 Mexican Casserole
Prep time: 20 minutes Cook time: 10 minutes
Ingredients:
1lb ground beef
1 (1 ¼ ounce) package taco seasoning
1 (15 ounce) can refried beans
2 cups Colby jack cheese
1 cup salsa
1 (2 1/3 ounce) can sliced black olives (drained)
1 tomato (chopped)
2 cups corn chips (crushed)
Cooking Instructions: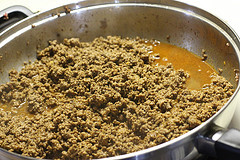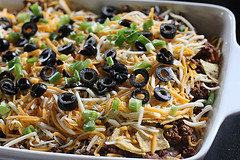 Step 1: In a large skillet brown ground beef and drain. Add taco seasoning and cook according to package directions by adding the amount of water stated on the package. Set aside. Heat refried beans in a medium sauce pan over medium heat until hot. Stir in 1 cup of cheese and 1 cup of salsa. Stir until combined.
Step 2: Place crushed corn chips onto the bottom of an 8×8" casserole dish. Pour the bean mixture over the chips in the casserole dish. Add taco meat on top of the bean mixture. Sprinkle the remaining 1 cup of cheese on top of the taco meat. Sprinkle green onions and black olives over the cheese.
Step 3: Bake in the oven at 375 degrees until the cheese has melted and the casserole is heated through. Take out of the oven and sprinkle with chopped tomatoes.
Yield: (4 Servings)
If you enjoyed this article Subscribe to my RSS Feed.