Last week I posted a recipe for shredded beef for tacos, here is another great taco filling recipe, this time for shredded chicken. This recipe combines flavors such as tomato sauce, salsa, cumin, garlic, chili powder and taco seasoning to create some delicious shredded chicken for tacos. If you don't want to simmer the chicken in a pan, you can do this whole recipe in the slow cooker as well. This makes some great Mexican shredded chicken for your tacos or burritos. Enjoy.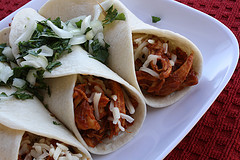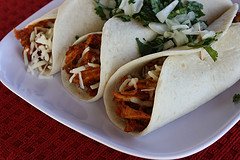 Ingredients:
2 boneless, skinless chicken breast halves
1 (4 ounce) can tomato sauce
¼ cup salsa
1 (1.25 ounce) package taco seasoning mix
1 teaspoon ground cumin
2 garlic cloves (minced)
1 teaspoon chili powder
hot sauce (to taste)
Cooking Instructions: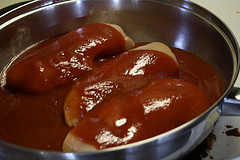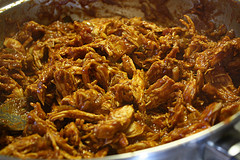 Step 1: In a medium sauce pan add chicken breasts and tomato sauce. Bring to a boil; add salsa, taco seasoning, cumin, garlic and chili powder. Reduce heat and simmer for 15 minutes.
Step 2: Start pulling chicken apart with 2 forks into strings. Cover and cook for another 5 to 10 minutes. Add hot sauce. At this point you can add water if needed as well, if the sauce becomes too thick. Cook until chicken is fully cooked.
(Makes 4 Servings)
If you enjoyed this article Subscribe to my RSS Feed.