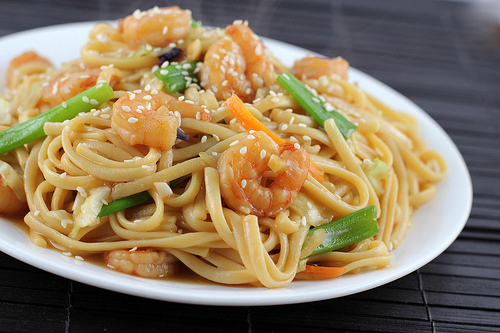 Shrimp Lo Mein is a Chinese noodle dish consisting of stir fried shrimp, pasta, and vegetables. Lo mein has always been one of my favorite things to eat at the Chinese buffet.  The shrimp is marinated in soy sauce, ginger, and garlic. If you do not like shrimp, chicken or beef will work as well. This is a simple Chinese recipe that nearly anyone can cook with ease. The recipe makes about 6 servings and can be easily cut in half if needed. Enjoy.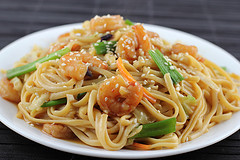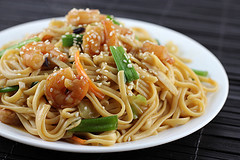 Ingredients:
2lbs raw medium shrimp (peeled and deveined, with tails removed)
½ cup soy sauce
8 teaspoons cornstarch
½ tablespoon fresh ginger (grated)
6 garlic cloves (minced)
4 teaspoons sesame oil (divided)
2 cups carrots (shredded)
2 cups cabbage (sliced thin)
1 (15 ounce) can chicken broth
7 green onions (sliced)
12 ounces linguini (cooked and drained)
Cooking Instructions: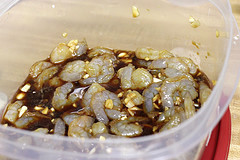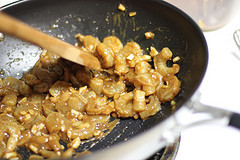 Step 1: In a large bowl combine shrimp, soy sauce, cornstarch, ginger, and garlic. Mix well and set aside for 10 minutes. Heat 1 teaspoon of sesame oil in a wok over high heat. Remove shrimp with a slotted spoon  reserving marinade. Add to the wok and stir fry until the shrimp are pink (2-3 minutes). Remove from the wok and set aside.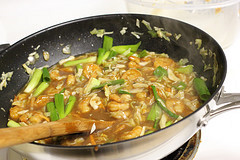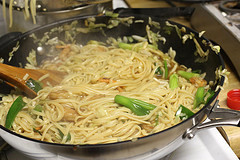 Step 2: Add another teaspoon of sesame oil to the skillet and add carrots. Stir try for 1 minute. Remove from the wok. Add the remaining 2 teaspoons of sesame oil and add cabbage and cook for 1 minute. Add chicken broth and the reserve marinade to the wok. Add the cooked shrimp and vegetables to the wok. Cook until the sauce has thickened (about 1 minute).
Step 3: Mix the shrimp and sauce mixture with the cooked linguini and mix in green onions.
(Makes 6 Servings)
If you enjoyed this article Subscribe to my RSS Feed.