Steakhouse Burger Recipe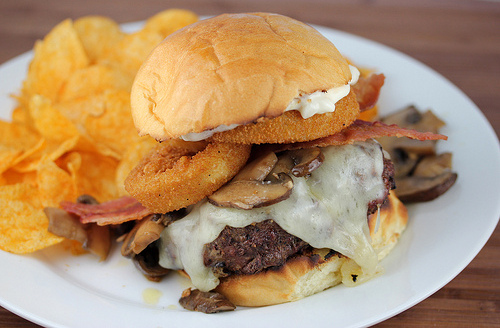 A delicious steakhouse burger is always an excellent choice if you are looking for something to cook on the grill. This burger is loaded with cheese, onion rings, mushrooms, bacon, and a garlic aioli. The hamburger patties themselves have an excellent flavor which comes from the use of Montreal steak seasoning. The best part of this recipe however is the garlic aioli. The garlic aioli really adds the right amount of garlic flavor and really makes this burger something special. This recipe does require a little work preparing the mushrooms, onion rings, bacon, and grilling the burgers but it is well worth it. You can save time by using pre-cooked bacon. These burgers also use that classic combination of Swiss cheese and mushrooms. If you do not want to use Swiss cheese, cheddar may be a good option but you can also experiment with different types of cheeses. These burgers make a great dinner and are perfect for summer grilling. Enjoy.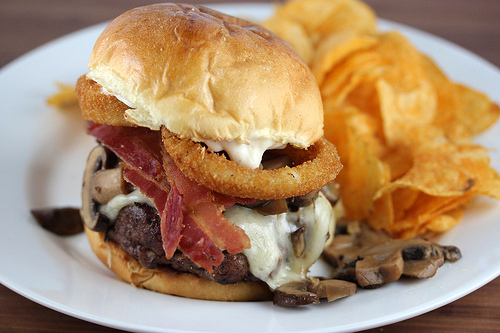 Ingredients:
2lbs ground beef
Montreal Steak Seasoning
8 slices apple wood smoked bacon (cooked until crispy)
8 frozen onion rings
4 slices of Swiss cheese
4 hamburger buns
Sauteed Mushrooms-
2 cups button mushrooms (sliced)
1 tablespoon Worcestershire sauce
3 tablespoons extra virgin olive oil
3 tablespoons butter
salt and pepper (to taste)
Garlic Aioli-
½ cup mayonnaise
1 tablespoon fresh garlic (chopped)
1 tablespoons freshly squeezed lemon juice
1 teaspoon lemon zest
salt and pepper (to taste)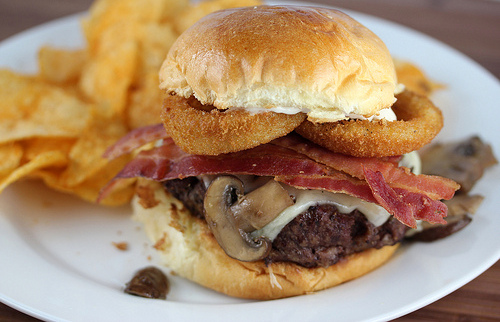 Cooking Instructions: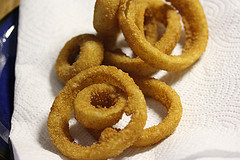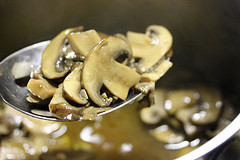 Step 1: To prepare garlic aioli- in a small bowl mix together mayonnaise, fresh garlic, lemon juice, and lemon zest. Season with salt and pepper. Cover and refrigerate until needed. Heat oil in a deep fryer to 375 degrees. Add onion rings and fry in oil until golden brown. Drain on paper towels. Set aside.
Step 2: Heat olive oil and butter in a medium skillet over medium heat. Add mushrooms and season with salt and pepper. Sautee for about 4 minutes. Add Worcestershire sauce. Sautee the mushrooms for about 20 minutes or until the mushrooms are tender.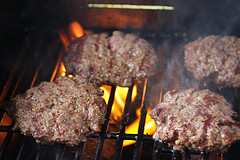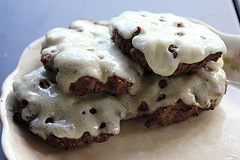 Step 3: Lightly grease the grill grates of an outdoor grill, and heat the grill to medium-high heat. Form ground beef into 4 equal patties. Make a depression in the center of each patty with your thumb. Season the patties on both sides with Montreal steak seasoning. Place hamburger patties onto the grill and cook, turning once until the internal temperature has reached 160 degrees. During the last few minutes of cooking, top each hamburger patty with a slice of Swiss cheese. Once the cheese has melted remove the cooked hamburger patties from the grill.
Step 4: While hamburgers are grilling, split the hamburger buns and place them cut side down onto the grill. Cook until lightly toasted. To assemble burgers- place each hamburger patty onto the top of the bottom half of each bun. Top with mushrooms, bacon, and onion rings. Spread the garlic aioli onto the bottom of the top half of the bun. Place the top half of the bun onto the burger.
(Makes 4 Servings)