Taco Grilled Cheese Recipe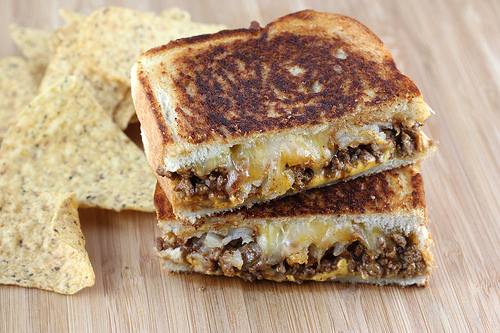 There are so many ingredients that you can add to a grilled cheese sandwich, but taco meat has to be one of the best choices. This taco grilled cheese is loaded with two different types of cheeses; American and Mexican cheese blend. The sandwich is also topped with taco meat and potato crowns. You can cook the potato crowns however you prefer, in the oven or in the deep fryer.  When you are cooking the grilled cheese, it is important to make sure the pan does not get too hot. You want the bottom to be nicely browned and the cheese to be melted. This is a great way to use up leftover taco meat. I like to serve this with tortilla chips but you could also serve it with extra potato crowns. Enjoy. Adapted from Monkey River Town.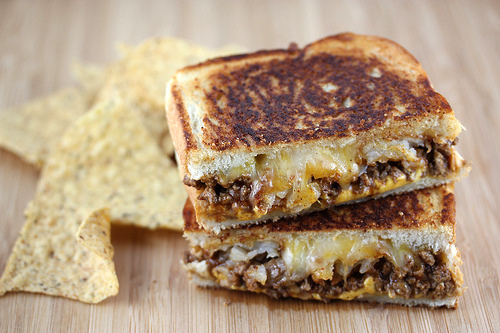 Ingredients:
1lb ground beef
1  (1.25 ounce) package taco seasoning mix
Frozen potato crowns (about 24)
8 slices American cheese
2 cups shredded Mexican cheese blend
butter (for spreading)
8 slices white bread
Cooking Instructions: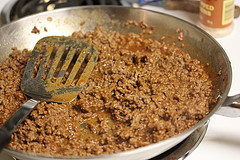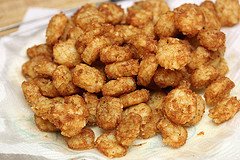 Step 1: In a medium skillet over medium high heat, brown ground beef. Drain off any excess liquid and stir in the package of taco seasoning and ¾ cup of water. Bring to a boil, reduce heat and simmer for 5 minutes (or until the ground beef is fully cooked), stirring occasionally.  Meanwhile, cook the potato browns by either baking them in the oven or deep frying them according to package directions. Drain on paper towels (if deep frying).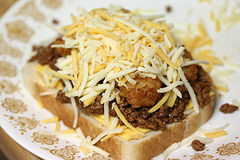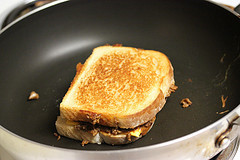 Step 2: Pre-heat a skillet to medium high heat. Spread butter over one side of a slice of bread. Place butter side down into the skillet. Top with 2 slices American cheese, taco meat, potato crowns, and shredded Mexican cheese blend. Butter an additional slice of bread on one side and place it butter side up on top of the sandwich.
Step 3: Cook in the skillet until lightly browned on the bottom and flip over. Continue cooking until the other side has browned and the cheese has melted. Repeat with remaining sandwiches.
(Makes 4 Servings)