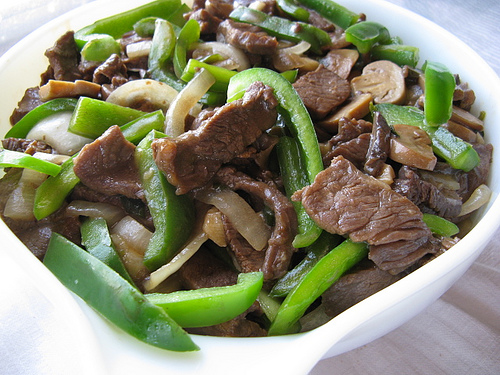 Tonight was pretty much filled with excitement. Not only is this the opening post of Blog Chef and the first of our Free Online Recipes, but it has also given me the opportunity to unleash my new Wok.
This evening I'm stir-frying none other than Chinese Pepper Steak. For those not familiar with Pepper Steak, let me give you a quick rundown. Pepper Steak is basically a stir-fried Chinese-American dish which consists of sliced steak, green bell peppers, and onions.
Although not necessarily traditional, I love adding mushrooms as well. The best part about this dish is the delicious tasting sauce, a mixture of soy sauce, wine, water, sugar, corn starch, and oil. I have been cooking this for a while now and everyone just loves it. Don't be hesitant, try it for yourself.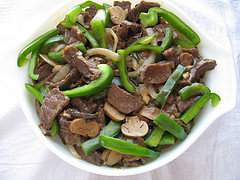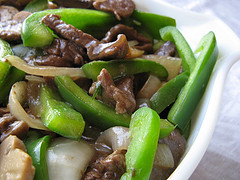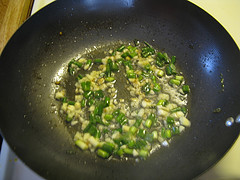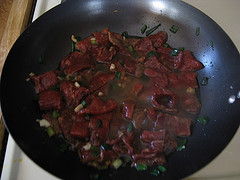 Print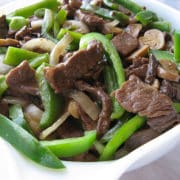 Chinese Pepper Steak Recipe
---
1

1 /4 – 1/2 pounds sirloin steak

1 cup

sliced mushrooms

2

bell peppers

1

medium onion, chopped

1

garlic clove, smashed, peeled and chopped in half

1/4 cup

Aloha shoyu

3/4 cup

beef broth

1 tablespoon

cornstarch

1 1/2 tablespoons

water

2 tablespoons

oil or margarine for frying

2 teaspoons

sugar

1 cup

stewed tomatoes
Salt and pepper to taste
---
Instructions
Partially freeze the steak for 15 minutes (this makes it easier to cut). Cut the steak into thin strips. Combine the soy sauce with the beef broth. Set aside. Combine the cornstarch with the water. Set aside.
In a large skillet or Dutch oven, heat 2 tablespoons oil or margarine on medium high heat. Brown the meat, turning over once.
Turn the heat down to medium. Push the meat to the side and add the onion and garlic to the frying pan. Add the mushrooms. Cook for 5 minutes.
Add the soy sauce and beef broth. Stir in the sugar. Bring to a boil, then reduce the heat, cover and simmer until the meat is tender (25 – 30 minutes).
Add the peppers and stewed tomatoes. Cover and cook for another 5 – 10 minutes. Bring to a boil, and stir in the cornstarch and water mixture. Cook, stirring constantly, for 4 – 5 minutes, until the food is thick and bubbling. Taste and add salt and pepper if desired. Serve over cooked rice.