Chinese Pepper Steak Recipe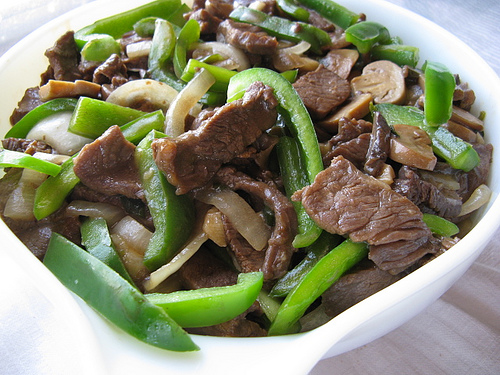 Tonight was pretty much filled with excitement. Not only is this the opening post of Blog Chef and the first of our Free Online Recipes, but it has also given me the opportunity to unleash my new Wok. This evening I'm stir frying none other than Chinese Pepper Steak. For those not familiar with Pepper Steak, let me give you a quick run down. Pepper Steak is basically a stir fried Chinese-American dish which consists of sliced steak, green bell peppers, and onions. Although not necessarily traditional, I love adding mushrooms as well. The best part about this dish is the delicious tasting sauce, a mixture of soy sauce, wine, water, sugar, corn starch and oil. I have been cooking this for awhile now and everyone just loves it. Don't be hesitant, try it for yourself.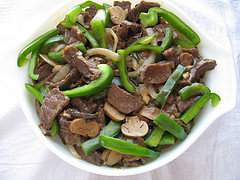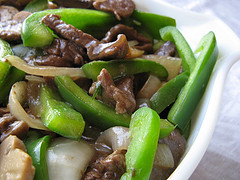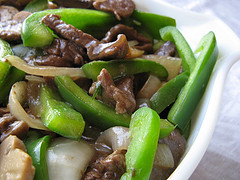 Chinese Pepper Steak Recipe
Ingredients:
1 pound flank steak (sliced)
Marinade:
1/4 cup soy sauce
2 tablespoons dry sherry or rice wine vinegar
1 teaspoon sugar
1/4 cup water
2 teaspoon corn starch
2 tablespoons vegetable oil
Vegetables:
2 teaspoons ginger root (chopped or grated)
2 scallions (chopped)
2  tablespoons vegetable oil (for cooking)
1 large Onion (sliced)
2 green bell peppers (sliced)
4 garlic cloves (chopped)
1 8oz can of sliced mushrooms (drained) or fresh sliced mushrooms
Directions:
 Marinate your sliced steak for about 20 minutes to a half hour.
 Add oil to your pan (I use a wok). Add garlic, ginger, and scallions. Stir fry for about 30 seconds.
 Now take a slotted spoon, add half of the steak, and stir fry for 3 minutes. Remove from pan and set aside. Repeat with the remaining half. (note- you need to reserve the marinade, as it is used to make the delicious sauce at the end.)
 Add oil and stir fry mushrooms, onion, and pepper for 2 minutes.
 Push vegetables to the sides of your pan. Pour marinade into the center and stir fry until thickened and bubbly.
 Blend in vegetables, add steak and heat thoroughly. Serve on top of white rice.