Scale
Ingredients
4 Tbsp

extra-virgin olive oil

2

medium cooking onions, thinly sliced

2

cloves of garlic, peeled and crushed

1

eggplant, cut into

1

-inch cubes

2

sweet red bell peppers, deseeded, cut into

1

-inch cubes

4

small zucchini, trimmed and cut into

1

-inch slices

3

large ripe tomatoes, skinned, deseeded, and roughly chopped

1 tsp

herbs de Provence
Fine Sea salt and cracked pepper, to taste

1

large handful of fresh basil leaves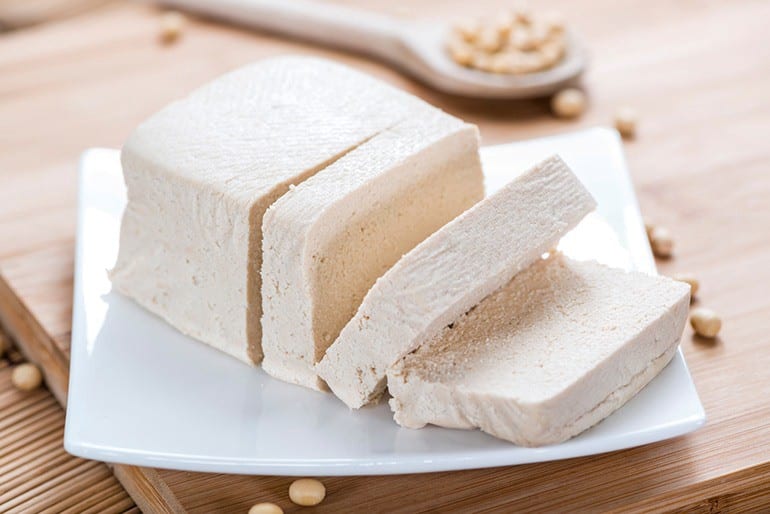 4 Tbsp

extra-virgin olive oil

2

medium cooking onions, thinly sliced

2

cloves of garlic, peeled and crushed

1

eggplant, cut into

1

-inch cubes

2

sweet red bell peppers, deseeded, cut into

1

-inch cubes

4

small zucchini, trimmed and cut into

1

-inch slices

3

large ripe tomatoes, skinned, deseeded, and roughly chopped

1 tsp

herbs de Provence
Fine Sea salt and cracked pepper, to taste

1

large handful of fresh basil leaves
---
Instructions
Place your tofu in a press like this for 15 mins to drain. In the meanwhile, you can get working on the ratatouille.
Heat your extra-virgin olive oil in a large, heavy-bottomed saucepan over low heat. Add the sliced onions and cook, occasionally stirring, for ~ 10 mins or until the onion softens.
Add the crushed garlic, eggplant herbs de Provence, and red pepper. Stir well to combine the veggies, then cover and cook over low heat for 20-25 mins.
Add the sliced zucchini and chopped tomatoes, seasoning well with salt and freshly ground black pepper. Cover the saucepan again, and cook for another 20-25 mins, or until the vegetables are quite tender. Stir in 1/2 of the basil leaves.
Take the ratatouille off the heat and place it to the side.
Place the yeast flakes, all-purpose flour, and garlic powder in a shallow mixing bowl and stir well. Place your pressed, cubed tofu into the bowl and toss gently until fully coated.
Heat your extra-virgin olive oil in a large skillet on the stovetop over medium heat. Add the coated tofu and pan-fry until golden and lightly crispy on all sides. Leave the tofu to cook ~ 3-4 mins per side, until golden brown. Try not to disturb or stir the tofu much during cooking, as it will get crisper if left alone. Season the fried tofu with salt and freshly ground black pepper, and remove from the heat.
Serve ratatouille topped with the remaining fresh basil leaves, a scoop of crispy fried tofu, and a slice of warm, crusty bread.
Notes
We hope this dish becomes an easy vegan staple for you – there are plenty of veggies, fiber, and protein in this nutritious dinner!
One of the best parts of ratatouille is the leftovers, as the stewed veggies develop an even better depth of flavor as they sit in the fridge. This dish is dynamite with baked beans in place of the tofu as a nice change of pace.
It seems fitting for this classic French recipe to say, as the French do, "Bon Appetit!"