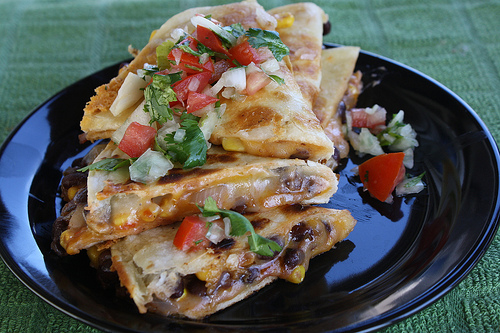 Black bean quesadillas are great for those who do not eat meat, and are looking for a delicious Mexican treat. These quesadillas are a little bit spicy and a bit sweet for a perfect combination. They include ingredients such as black beans and corn, along with salsa and brown sugar. I added a pinch of red pepper flakes just to add a little more heat to the mixture. If you require meat in your quesadillas, feel free to add chicken or beef.  These are very easy and can be prepared within 30 minutes. They are great as a main course or even as an appetizer. Top with extra canned salsa or fresh Pico de Gallo. Enjoy.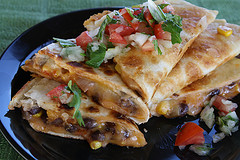 Ingredients:
2 teaspoons olive oil
3 tablespoons onion (finely chopped)
1 (15.5 ounce) can black beans (drained and rinsed)
1 (10 ounce) can whole kernel corn (drained)
1 tablespoon brown sugar
¼ cup salsa
¼ teaspoon red pepper flakes
2 tablespoons butter (divided)
8 (8 inch) flour tortillas
1 ½ cups shredded Monterey jack cheese (or more)

Cooking Instructions: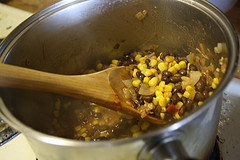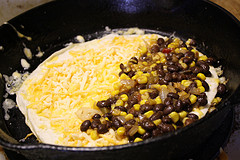 Step 1: In a large saucepan heat olive oil over medium heat. Add onion and cook until softened (about 2 minutes). Stir in beans and corn. Add sugar, salsa, and red pepper flakes. Mix well. Cook until heated through.
Step 2: Heat large skillet to medium heat. Melt 2 teaspoons of butter. Place a tortilla flat into the skillet. Spread cheese all over the top. Place some of the bean mixture over the cheese. Place another tortilla on top of the bean mixture. Cook until the bottom is golden brown. Flip and cook on the other side until golden brown.
Step 3: Repeat until all tortillas and bean mixture are gone, adding butter as needed.
(Makes 4 Servings)
If you enjoyed this article Subscribe to my RSS Feed.