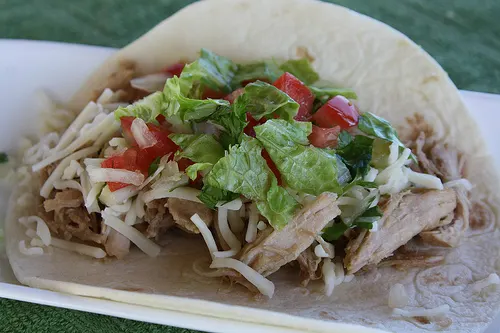 If enjoying eating at Mexican restaurants chances are you have tried or heard of Carnitas. I have wanted to try carnitas for a while and this recipe looked like the best choice. The cooking process is very simple; the pork is simmered in an orange juice/chicken broth mixture until tender and then shredded. I did have a slight problem with getting the pork crisp in the pan. I was afraid to overcook it and it would become dry. I do prefer my taco meat to be a little on the juicy side. One method that I would recommend if you are having problems with the tradition pan method is to lay the pork out on a metal sheet pan and place it into the broiler until the outside of the pork becomes crispy. This recipe can also be done in the slow cooker. If you do not use alcohol in cooking for certain reasons, it can be left out. Serve with guacamole, and/or Pico de Gallo.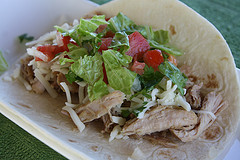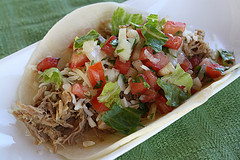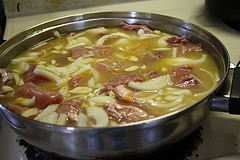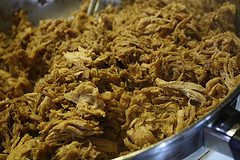 (Makes 8 Servings)
Print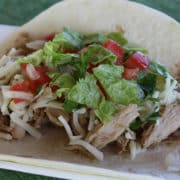 Carnitas Recipe
---
4

lbs boneless country style pork ribs

2 cups

low sodium chicken broth

1 ½ cups

fresh orange juice

6

garlic cloves (peeled)

1

medium onion (quartered)

2 teaspoon

of sea salt

1 teaspoon

orange peel (grated)

¼ cup

brandy
Flour or corn tortillas
Optional Condiments:
Shredded Monterey Jack Cheese
Lettuce
Guacamole
Pico de Gallo
---
Instructions
Cut the boneless pork ribs crosswise into thirds. Cut off any big chunks of fat from the pork and reserve (you will still want the small pieces of fat attached to the pork).
In a deep skillet combine pork, reserved fat, 2 cups chicken broth, orange juice, garlic, onion, sea salt, and orange peel. Bring to a boil. Reduce heat, cover and simmer until pork is tender (about 1 hour and 45 minutes), stirring occasionally.
Add more chicken broth if necessary during this time period to keep the pork partially submerged.
Once the pork is tender uncover and bring to a boil.
Boil pork mixture until the liquid is reduced by half. Stir in brandy. Boil while stirring often until the liquid evaporates and the meat browns and begins to crisp. Remove from heat.
Discard any loose pieces of fat and tear meat into thin strips.
Serve on warm tortillas with optional condiments.