BBQ Chicken Calzones Recipe

I thought the first calzones recipe I posted was amazing and I would say these BBQ chicken calzones are equally as delicious. If you are a big fan of Barbecue chicken pizza, you are sure to enjoy this recipe. The recipe combines amazing ingredients such as BBQ chicken, cilantro, bacon, and cheese. This is a great way to make use of leftover chicken. It calls for refrigerated pizza crust dough but you can make your own crust if you want instead. For the cheese, you could replace mozzarella with cheddar or even add a little smoked Gouda into the mix. Enjoy.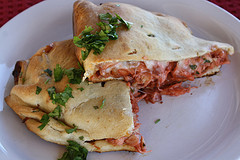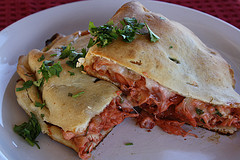 Ingredients:
4 slices of bacon
½ onion (chopped)
3 cups shredded cooked chicken breast meat
2/3 cup barbeque sauce
1 (10 ounce) can refrigerated pizza crust dough
1 cup shredded mozzarella cheese
2 tablespoons fresh cilantro
Cooking Instructions: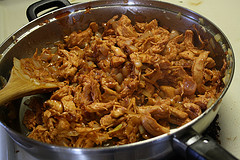 Step 1: Pre-heat the oven to 400 degrees. Fry bacon in a large skillet over medium-high heat until crisp. Remove bacon from the pan and drain on paper towels. Crumble. Add the onion and shredded chicken to the pan and fry in the hot bacon grease. Fry until onion is tender. Stir in 1/3 cup of barbeque sauce. Remove from heat and mix in the crumbled bacon.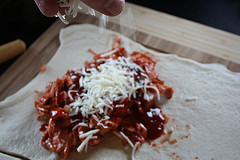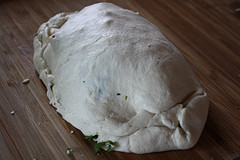 Step 2: Roll out the pizza crust dough onto a grease cookie sheet. Roll out to an even thickness and cut in half. Divide the chicken mixture between two pieces of dough, spreading the mixture to ½" of the edge or more. Drizzle the remaining BBQ sauce over the chicken mixtures. Sprinkle cilantro and mozzarella cheese over both. Fold the uncovered portion of the dough over the filling and press the edges together with a fork until sealed.
Step 3:  Place into the oven and bake at 400 degrees for 25 minutes or until browned to your liking. Allow to cool for a few minutes and then cut each calzone in half.
(Makes 4 Servings)