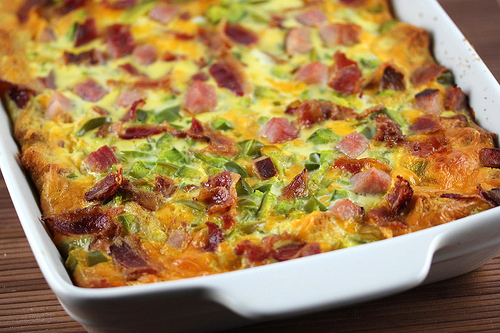 If you are looking for the perfect dish to serve for breakfast this casserole is probably it. It is very easy to prepare and the oven does most of the work for you. Unlike a lot of breakfast casseroles, this casserole does not need to set in the refrigerator overnight, although you could do this if you wanted. You can play around with the ingredients in several different ways. You could add additional ingredients such as sausage, mushrooms, and onions. This recipe gets a lot of flavor from seasoned croutons, but regular croutons would work as well. I know this ingredient may sound a little strange but it is totally delicious. If you want to save time you could buy pre-cooked bacon from the store. This casserole is perfect for Easter. Enjoy.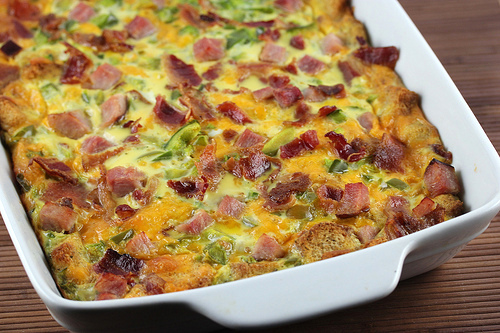 Ingredients:
6 slices bacon
1 cup ham (cubed)
¼ cup butter (melted)
3 cups seasoned croutons
2 cups shredded cheddar cheese
6 eggs
1 ¾ cups milk
1 green bell pepper (diced)
1 tablespoon prepared yellow mustard
salt and pepper (to taste)
Cooking Instructions: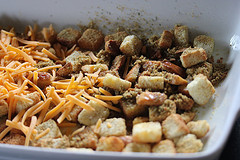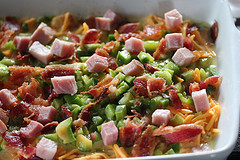 Step 1: Place bacon in a large, deep skillet. Cook over medium-high heat until evenly brown. Drain on paper towels. Once the bacon has cooled crumble it into bits and set aside.
Step 2: Pre-heat the oven to 325 degrees. Melt butter in the microwave (or in a small pan on the stove over low heat). Spray a 9×13" baking dish with cooking spray. Place croutons into the bottom of the dish and drizzle the melted butter over the top of them. Top with shredded cheddar cheese.
Step 3: Crack the eggs into a medium bowl, and whisk to break up the yolks. Add milk, bell pepper, mustard, salt and pepper. Beat until well combined. Pour the egg mixture over the croutons and cheese, and sprinkle with crumble bacon and cubed ham.
Step 4: Place into the oven and bake at 325 degrees for 40 minutes. Remove from the oven and allow to stand for 10 minutes before serving.
(Makes 6 Servings)
If you enjoyed this article Subscribe to my RSS Feed.